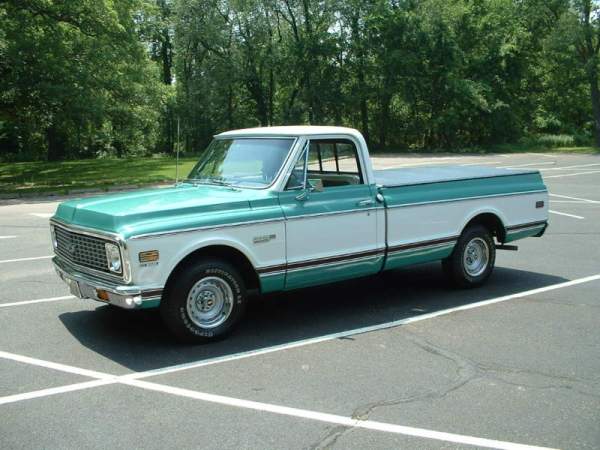 It's hard to go wrong with GM's 1967-1972 trucks, especially if you're in the market for a classic pickup that has both vintage looks and modern usability. Options on the range included power steering, power brakes, air conditioning, AM/FM radio, sliding rear windows, bucket seats, coil spring suspension, and more – so they're actually pretty comfortable. And they're super simple, which makes them really appealing. Just the thing for both cruise-ins and weekend runs to Home Depot.
This C10 is a Cheyenne with the Super package, which added special woodgrain exterior trim, headliner, and other interior upgrades to the relatively basic C-10. The seller says this truck was repainted at some point in the recent past, but other than that, the truck is mostly original, including the interior.
It's rust-free, features power steering and power brakes, and has a factory tach dash. New parts include a replacement rear bumper, a recent tune up, a new washer pump, a few a/c components, and a replacement heater control valve. The engine is a stock 350 coupled to a a TH350 automatic, and the seller claims there are no leaks and no problems with either.
C-10s of this era have been popular for years, but values continue to rise for really good original examples. This one has a lot going for it, both visually and mechanically, so it should make a great driver. Over 6,400 1967-1972 Chevy trucks have sold on eBay Motors over the past several years, with average prices topping out at around $11k. See this one's listing here.