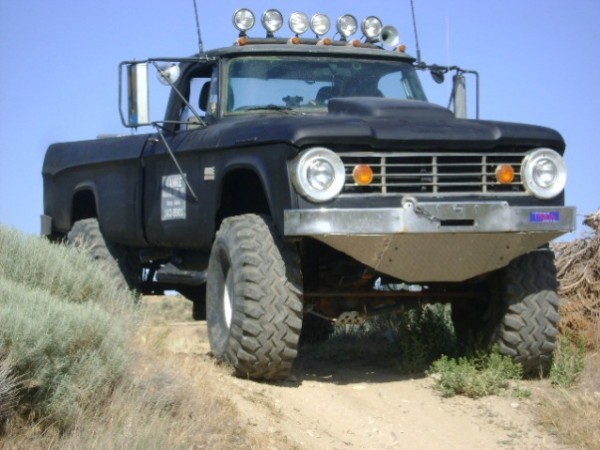 Absolutley positively need to get where you're going? Floods, snow drifts, windstorms, blackouts, or a Zombie apocolypse won't stop this monster of a Power Wagon, with its Mad Max-style modifications. It's just the thing you need to plow yourself across town or cross country regardless of the situation at hand.
This is no stocker. It's titled as a 1970 Dodge, but it features the front frame of a 1991 Ram Charger and the rear frame of a 1969 Dodge truck. Under the hood, the factory engine was yanked in favor of an International DT466 turbodiesel out of a 35-foot, 35,000-pound Blue Bird school bus.
The transmission is an Allison 4-speed automatic, which then turns 4.11-geared Dana 60 axles via an NP205 transfer case. It's a tough combination of drivetrain components. But if you still somehow manage to get this truck stuck somewhere, there's also a Warn winch to help pull you out.
The seller says the 44-inch tires have just 1,000 miles on them, and that it'll run at 80 mph on the highway with no problem – although I'd be wary of doing so until I had the frame mods checked over by an expert. You never know what might be lurking here, so the best bet is a hands-on inspection before blasting down the highway.
Other features include power steering and power brakes, the latter sourced from a Ford F-450 truck. It also has a lot of exterior lights, an on-board air compressor that holds steady at 140 psi, as well as an air horn from a 1950s Mac truck, complete with chain pull inside the cab. Your neighbors will love it!
The most valuable classic trucks tend to be stock originals and stock restorations. But there's something to be said for over-the-top burly attitude, and that's exactly what this truck has. The first thing I'd do is look for some off-road obstacles to run over. See the listing here.