Photo credit of car #18 Van Diemen DP08 Mazda: Tom Turk Photo
"What do you do?" That's a broad question, huh?
Well, we all do something, don't we? It's a question that comes up most every time strangers meet.
"I'm a race car driver," and I proceed to ask "what do you do?" The response always falls into the "delayed, deer in the headlights and confusion" sector. Most of the time it's pretty amusing because each and every reaction is a little different and the goal is to sound like you haven't rehearsed your responses as the next set of one hundred questions begin to fire away.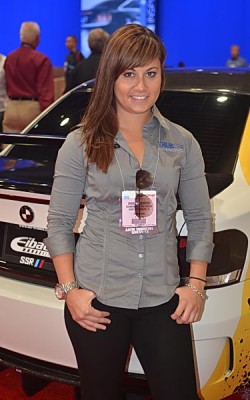 I stand about 5 feet 2 inches and have a petite, but athletic build. And yes, I am a 23 year old woman with a love for cars, speed, adrenaline and more importantly, a passion for driving race cars.
And so the story goes; I began racing at five years old in a racing series for kids age 5 to 16 called Quarter Midgets with my family as a hobby. My dad is a machinist, my mother originally a beautician. There was no prior racing involvement in my family except for my dad's love for ESPN's Thursday Night Thunder (where Jeff Gordon made his TV debut in USAC Midgets), and my dad dragging my pregnant mom around Indianapolis Motor Speedway. Yes, she was pregnant with me.
I have raced everything from Quarter Midgets to Micro Sprint dirt cars, to USAC Midgets, dirt Late Models, to open wheel formula cars in INDYCAR's developmental USF2000 series.
I am lacking one of the key elements it takes to be a successful race car driver, but I have one that is ever more important. One is an endless budget, and the other is tenacity.
My parents ran out of money when I was seventeen and between then and now, I have developed a true passion for the business of motorsports and working all angles to do what I do. Racing cars.
You see, a lot of the surprise people get is out of what I am to look at, a 23 year old girl (who looks like she's 17, I am told)…who tells a stranger when they ask, that I drive race cars, and that it is the career that I chosen to pursue.
But the reality is that I am a small town girl, who has and always will, take every opportunity to work to make my aspirations a reality. I have already been so blessed to experience much through chasing my dreams. More importantly, I want to be a voice who inspires others to forget what resources they have at this very moment, and go after your dreams and make it happen.
I am very excited and honored to join the eBay Motors Blog family and look forward to taking you readers along for the ride in this journey of mine. Through the highest of highs and the lowest of lows that this industry takes me every day – I thank all of my supporters and family who encourage me to never ever give up.
As I close entry number one, I want to leave you with a way of thinking that I believe everyone should strive for. NinTai – a Japanese term meaning: perseverance, steadfastness, patience and to simply never, ever give up.
So, do what you wanna do, and "live by NinTai".
# # #
Shannon is a tour de force and has mad skills as a pro driver. She loves yoga, staying fit, and traveling abroad when not strapped in the cockpit of a race car. Read all of Shannon's blog posts HERE
Shannon was named as one of five "Pretty Amazing" Real Cover girls by SEVENTEEN magazine. Tech giant Mashable listed her among an impressive group of seven "Must-Follow Athletes on Social Media."
Keep up with Shannon on her website: www.ShannonMcIntosh.com
On Facebook: www.facebook.com/shannmcintosh
and Twitter: www.twitter.com/shannon_mac