In the past decade, the gas-electric Toyota Prius has risen in status from science project to mainstream vehicle. In September, the 50-mpg hybrid was the eighth most popular car in the U.S., and the biggest gainer—more than doubling sales from a year ago. But for all the merits of hybrid technology—great fuel economy and low emissions—it's the automotive equivalent of a sensible diet: good for you, but not a lot of fun. For drivers wanting high-mpg, but a more rollicking ride from behind the wheel, there's an alternative: diesel.
For many Americans, diesel carries a stigma for belching dirty black plumes of exhaust.
It's time to ditch that image. Thanks to a combination cleaner low-sulfur fuel, advanced engine design, and particulate scrubbers and filters, total emissions from modern clean diesel cars like the Volkswagen Jetta TDI and Passat TDI have been cut by more than 90 percent compared to their predecessors. Today, diesels sold on the U.S. are usually cleaner and more fuel-efficient than their gas-powered counterparts. And equally important, today's clean diesel cars appeal to drivers who like to step on the accelerator pedal and go.
The Passat TDI demonstrates how a diesel technology translates to an impressive fuel economy rating of 43 mpg on the highway and 31 mpg in the city. Except for hybrids and electric cars, the most efficient diesels beat all pure petro-powered sedans on the MPG charts. The Passat has consistently drawn rave reviews from critics who celebrate its mix of torque and fuel economy. It was named the 2012 Motor Trend Car of the Year.
There are more than a dozen clean diesels currently available the U.S.—ranging from affordable, sporty sedans to pricey luxury SUVs. The VW Passat TDI is the only clean diesel mid-size sedan available in the U.S. The Jetta TDI is available as a small sedan or a wagon. Its packaging as a versatile wagon format has helped it become the second most popular high-mpg vehicle in America—outsold only by the Prius liftback.
Many diesel cars can also run, without modification, on biodiesel. But owners should consult with the fine print on your car's warranty to make sure use of alternative fuels is covered.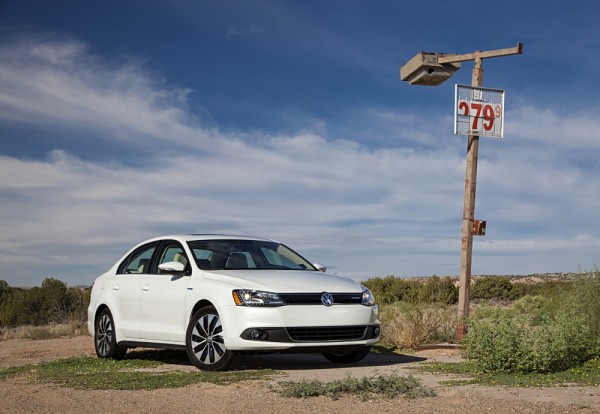 Like nearly every other major automaker, VW is covering its bases when it comes to green car technology. Before the end of the year, the German automaker will introduce its first hybrid in the form the 2013 Jetta. Powered by an all-new 1.4-liter turbocharged gas engine, and an electric motor, the Jetta Hybrid will offer combined city-highway fuel economy of 45 miles per gallon—and a 0-60 mph time of less than 9.0 seconds.
But don't take this as a sign that hybrids have beaten diesels in a battle of green car technologies. Earlier this week—in a turning of the table—Toyota (the hybrid champion) signaled its own diesel intentions. In Tokyo, Toyota vice chairman Takeshi Uchiyamada unveiled a new 1.4-liter clean diesel for passenger cars. Automotive pundits predict that Toyota will soon offer diesel-powered models as high-torque fast-off-the-line alternatives to its growing line of hybrids.
Check out all the clean diesel cars for sale, and more background info, at eBay Green Driving.
###
VOLKSWAGEN ANNOUNCES 2013 JETTA HYBRID PRICING
The latest member of the Jetta family offers competitive pricing, excellent fuel economy, and the fun-to-drive nature expected of a Volkswagen
Jetta Hybrid starts at $24,995*, with SE priced from $26,990
Most fuel-efficient Jetta in the lineup with manufacturer estimated combined fuel economy of 45 mpg**
World's first hybrid to use a seven-speed dual-clutch automatic transmission
Fastest compact hybrid in its class with an estimated 0-60 mph of less than 9.0 seconds
Drives as a full EV at speeds of up to 44 mph
Premium features include LED taillights and Daytime Running Lights, plus Bi-Xenon headlights
**Manufacturer estimate of fuel economy only; EPA results may vary