[updated 10/29/2012 20:05]
Photo credit: ERC24 – European Rallycross Championship
We learned last night that David Binks, our eBay Motors Global RallyCross racer, had rolled his Ford Fiesta Mk 7 end-over-end after landing a jump that didn't go very well. Fortunately, David only sustained some minor bumps and walked away from the accident. Unfortunately, the eBay Motors Ford Fiesta wasn't so lucky. Damage to the the Fiesta was extensive and will have his crew working non-stop up until race time.
David vividly recalls the entire accident and gave us his personal play-by-play:
I approached the left hand hairpin, braked hard and rotated the car. Heading up to the jump I pulled 2nd, then 3rd, and lined up to hit the jump. Hitting the ramp I gassed up the throttle, got a load of wheel spin and new it had gone wrong. As I took off I just hoped the Fiesta would clear the gap. When I felt the huge thump under the car I just held on tight. It was a wild ride!
I am so disappointed for everyone — my crew who works hard to keep me in the race and the fans who continually support me — I really wanted to give eBay Motors the show our fans deserve.
I will be around all week and cant wait to meet you all and will be signing autographs and looking forward to talking to you all so please come and say,"Hello."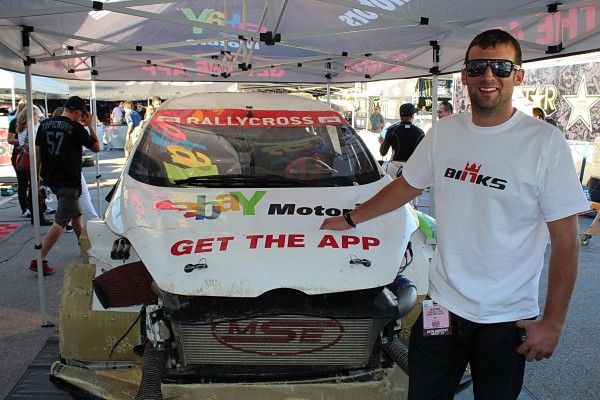 Despite the huge challenge ahead of them, David's team is working hard to put the Ford Fiesta back into the game for the last round scheduled to start at 5:00 PM tomorrow.
Want more Binks-action. Stop by the eBay booth (#11917 – North Hall) and chat with David over a spot of tea. He will be signing autographs and chatting up a storm Thursday, 11am – 12pm.
Video of the unsuccessful jump was captured by Formula Photo and published on Youtube.
David Binks released the following statement today.
Monday October 29, 2012, SEMA, Las Vegas. eBay Motors Global Rallycross driver, David Binks, sustained an accident in his eBay Motors Ford Fiesta Mk 7 during practice yesterday in preparation for the last round of the 2012 series at the SEMA Show at the Las Vegas Convention Centre.
The 30 year old British driver from Newcastle sustained an end-over-end roll after his car nosed on landing from a jump at around 1730hrs Pacific Time. However, David was able to extract himself from the inverted car, but as a precautionary measure, he attended UMC University Medical Centre in Las Vegas.
At 2030hrs local, David was discharged from hospital suffering from light bruising, but without any further injury.
"I had run a number of fast warm up laps, missing out the jump and was really enjoying this new purpose-built track, however on the first run using the jump, the landing kicked the back of the car up, sending me into a dramatic roll, ending with the car on its roof! Thankfully I was okay, just little sore but really hope the team can get my eBay Motors Ford Fiesta repaired today in time for seeding. I am totally gutted as we wanted to finish the season off on a high, however I want to thank my sponsors eBay Motors and Replay XD for their continued support".
David is currently working with Olsbergs MSE to determine the condition of eBay Motors Ford Fiesta Mk7 to decide whether he will continue to compete in the event Tuesday evening.
"It's in a pretty bad way" said OMSE team owner Andreas Eriksson. "It needs a new door pillar, roof and body panels and parts such as uprights. The roll cage stood up well to the impact and is fine, but it looks like the chassis will need to go on the jig. We will do our best to get David's car running," he concluded.
###