Twice a year, Central Avenue in Phoenix, Arizona becomes a magnet for classic cars, street rods and anything on wheels.  Back in the 60's, the teenagers cruised along Central Avenue on the weekends in their cars.  Of course there was a Bob's Big Boy along the route and plenty of other parking lots to pull into.
But eventually the property owners had enough and the police "encouraged"  the drivers to move along to other spots.  They went farther north to another shopping center, Metrocenter Mall, and even to the east settling along Main Avenue in Mesa, Arizona.  But officials there also cracked down and cruising sadly died out for a spell.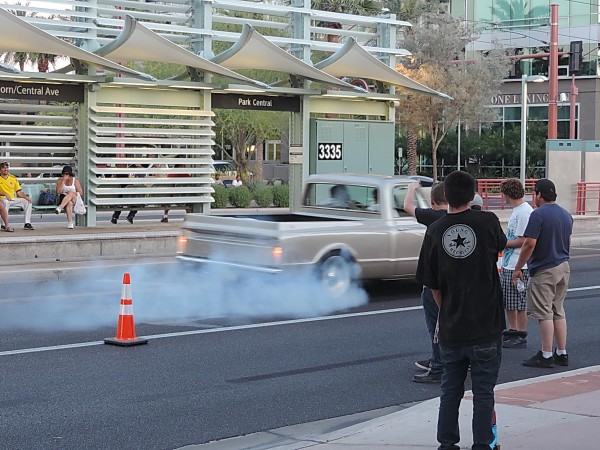 In the early 2000's, an unofficial  "unsanctioned" cruise occurred twice a year along Central Avenue again, focused on a nearly dormant outdoor  shopping center, Park Central Mall.  Cars and trucks would show up and enjoy the spontaneous show of muscle and classic cars.
Eventually the cruise became more organized and now a local promoter, Nancy Perry, has taken on the task of coordinating this twice yearly cruise – Cruise on Central.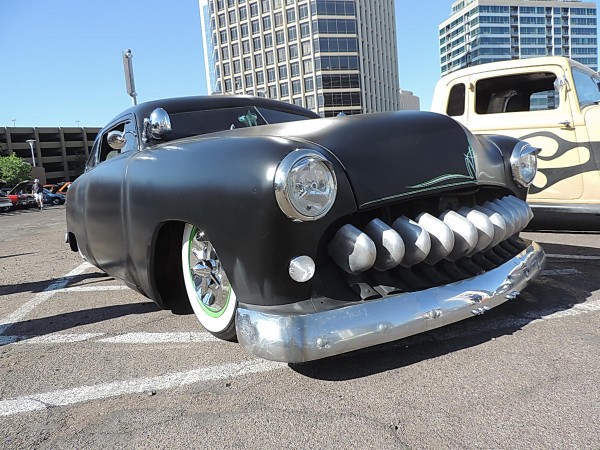 People come from all over the state to partake of the show.  Not much has changed over the years, except now a light rail track runs down the middle of Central Avenue.  Cars show up early, people park in adjacent lots, the nearby Jack-in-the -Box is swamped and for a while the local police tolerate mild boasts of car enthusiasm – burnouts and some sparks flying from scraping cars – are tolerated.
But like all good things, the show shuts down, the street is closed to more traffic and the crowds slowly move away; anxiously counting the days to the next Cruise on Central.   Normally the cruise is the second Saturday in April and October, so October 11, 2014 should be the next happening event.
Enjoy this selection of pictures and let us know your favorite.
---
| | |
| --- | --- |
| | From overviews of trends in the automotive industry to penetrating looks at car shows, auctions and classic car trends we offer readers a unique perspective with a mix of irreverence and off the wall humor. Check out other articles at Route66PubCo.com. |