Most people dream of being in the movies. Unfortunately, without years of acting, training, or an uncle in the business, a dream of fame is rarely realized. However, collecting movie memorabilia is something anyone can do, which is why it developed a small but loyal market. The following are the quintessential pieces of American movie memorabilia; the automobiles.
1. Type of car: 1959 Ferrari 250 GT California Spyder SWB
Appears in: Ferris Bueller's Day Off
Price: $3.26 Million
Nothing is better than playing hookie. Unless of course you can do it in one of the most beautiful vintage cars ever made. Then you'd be in for a Hollywood-caliber adventure.
Fans of the John Hughes classic easily recognize this as the car seen flying over a hill in front of the Chicago skyline, as driven by a local parking attendant. They also remember it for having an odometer that does not work in reverse. Although Ferris Bueller enjoyed his day off in this sweet ride, the connection to the movie has little to do with the value of the car. At the end of the day, a 1961 Ferrari is a 1961 Ferrari, which is why this one sold for 3.26 million dollars. Good luck paying for that one, Cameron.
2. Type of car: 1969 Mercedes 280 SE
Appears in: The Hangover
Price: $20,600 (Reserve Was Not Met)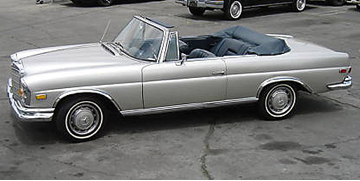 Unlike Mr. Frye's Ferrari from above, this is the actual automobile used in the movie The Hangover. How can you be certain? Just try putting the top up.
Thanks to a lack of convertibles and a little bit of movie magic, this Mercedes is actually hiding a dirty little secret. Because this car was originally a coupe, the top was removed, and the soft padding was added to simulate a functioning top. Translation: don't attempt to drive this car in the winter or in rain, as it is a permanent top-down vehicle. Perhaps because of this unique problem, it was far more affordable than a Ferrari.
3. Type of car: 2005 Ford Mustang
Appears in: Transformers
Price: $65,200 (Reserve Not Met)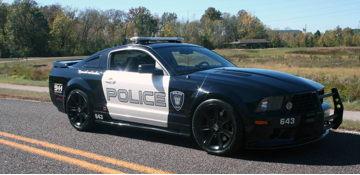 Fans of the series know this car better as Barricade. Anyone who thinks this is simply a 2005 Mustang with a paint job should be warned: This car is more than meets the eye.
This is one of the actual vehicles used in Michael Bay's original Transformers. Because of that, there are movie quality surprises around every corner, including an authentic Decepticons badge, working police lights, and an evil "to enslave and punish" slogan on the rear quarter panel. Though this car does NOT have the ability to turn into an evil, sentient robot, it does have the ability to turn heads wherever it goes. The bidding ended at $65,200.
4. Type of Car: DeLorean (Custom Specs)
Appears in: Back to the Future Trilogy
Price: $89,000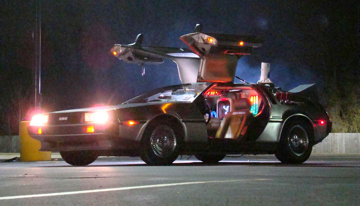 One of the coolest automobiles of all-time, diehard Back to the Future (or Huey Lewis and the News) fans actually have several options for obtaining their own tricked-out DeLorean.
For those who need a time machine immediately, there was a $89,000 model on eBay for sale. However, for those with a DeLorean, and 25 grand to spare, www.bttfstuff.com will fully trick out your ride up to Doc Brown's specifications. They'll even find a DeLorean for you and fully restore it (at an extra cost). With service that good, you'd be hard-pressed not to spend your life savings on the coolest toy ever. Though the time circuits and flux capacitor really work, time travel is still sketchy at best. Nevertheless, you'll be the life of any party showing up in this set of wheels.
5. Type of Car: 1959 Cadillac Miller-Meteor
Appears in: Ghostbusters 1 & 2
Price: Varies (One Sold for $45,600)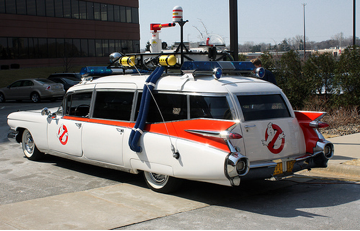 In one of the earliest and best episodes of Pimp my Ride, Ray Stanz turns a 1959 Cadillac into a ghost hunting machine.
Perhaps the proudest moment for Cadillac ever, the Ghostbusters franchise completely revitalized the waning "used ambulance" market. Once the film was released, sales skyrocketed from "none" all the way up to "probably a few" sold each year. Though it is easier to find conversion kits online, there are a few fully furnished and functioning models available. Though the prices range, is it really possible to put a number on owning the Ecto-1?
6. Type of Car: 1966 Batmobile
Appears in: 1960's Series of Batman
Price: $55,000 (Reserve Not Met)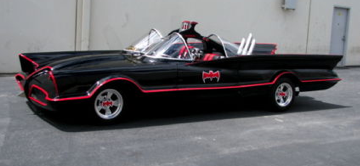 A completely homemade venture, this Frankenstein of a beast is made out of classic Corvette parts, put on a 1970's Lincoln chassis. The bidding ended at $55,000 with the reserve not met. Pricey? You bet. But here's why: not only are you getting a quality car with functioning lights, instrument panel, and Bat-phone, but you are also getting a fully functioning rear turbine flame guaranteed to make Adam West pine for the good old days. If that isn't worth it, we don't know what is.
7. Type of Car: 1969 Dodge Charger
Appears in: Dukes of Hazard
Price: $19,800 (Reserve Was Not Met)

Those waiting for the south to rise again can stop waiting and start saving, as General Lee would be the perfect addition to any Confederate driveway.
This 1969 Charger is fully functional and features the trademark General Lee paint job and horn. While it may not be as pristine as the version from the TV series or film, it is more than enough to get Jessica Simpson (of 2005) to throw on some daisy dukes and go for a spin.
8. Type of Car: Lamborghini Murcielago LP640
Appears in: The Dark Knight
Price: $319,900

Though everyone wants to take the Tumbler for a spin, it may be a far more exhilarating experience to drive Bruce Wayne's ride for once.
This Lamborghini was won at a whopping $319,900, but it is well worth it. Sporting only 200 original miles, this car features a 12 cylinder, 6.5 liter engine that produces a max speed of 202 mph, and boasts a whopping 3.3 second 0-60 time. Is all that car speak too much for you? Then just know this: it looks hot and goes fast. Although Bruce Wayne wrecked his without batting so much as an eyelid, you'll want to be far more careful. We can only imagine what the insurance on a beast like this would cost.
9. Type of Car: "The Shag-uar" 1970 Jaguar E-Type Roadster
Appears in: Austin Powers: International Man of Mystery
Price: $51,100 (Reserve Was Not Met)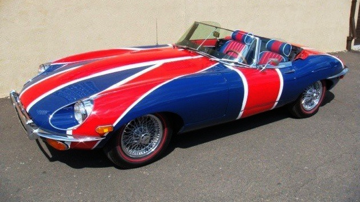 With a custom paint job and a guaranteed success rate with the ladies, this Jaguar is a hit with single men. Women seem attracted to the car, too, as it reminds them of the British hit Absolutely Fabulous.
Still including the powertrain and other features, this car doesn't disclose its mileage. Though it hasn't appeared in any movies since 1997, this car is burnt into the memories of frisky adults, everywhere.
Conclusion:
Even though you may never live like a movie star, that's no reason to not drive like one. For those with expendable cash and mid-life-crises to get through, there can be no investment less practical and more fun than a fully functioning movie prop. Just be sure to obey all posted speed limits on the roads. What are we saying… roads? Where we're going you don't need "roads."