Grand-Am Continental Tire Sports Car Challenge at Mazda Raceway Laguna Seca 
With only two races left for the season, Grand-Am race fans were treated to some heated competition as drivers and race teams chase down their respective championships.
Continental Tire Sports Car Challenge race on Saturday counted too many yellow flags as a result of drivers fighting for position. With all the contact on the track, we thought NASCAR was in town racing on Saturday. Fortunately, nobody was seriously injured. Jack Roush Jr., who fractured his wrist during Friday's practice session, had the worst injury for the weekend and is scheduled for surgery later this week.
Penalties ultimately decided the overall Grand Sport winners, the No. 9 Stevenson Auto Group Camaro GS.R pair of John Edwards and Matt Bell. Edwards was behind the wheel of the Chevrolet when the two race leaders – David Empringham and Matt Plumb – were cited for jumping the restart on the 59th of 71 laps.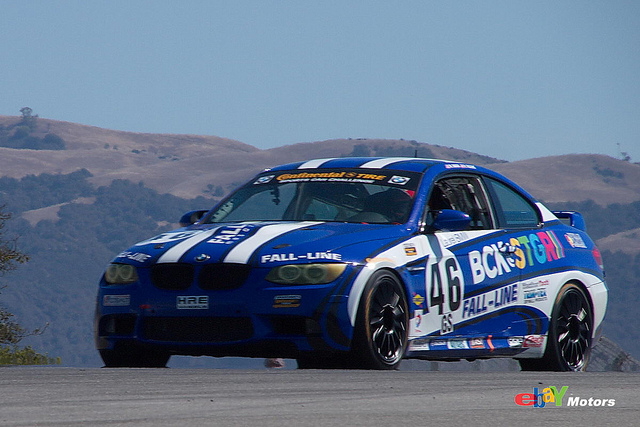 With door-bashing happening all the way to the finish, Edwards survived a Turn 2 body slam from the then-second-place No. 35 Subaru WRX-S of Andrew Aquillante. Edwards' car fish-tailed but continued. Unfortunately, Aquillante's Subaru suffered terminal wounds, sliding to a halt with flames shooting from its underside.
"I don't think I've ever crashed so many times and won the race. I wasn't too optimistic about getting a podium even halfway through the race. Slowly everyone started making mistakes and we found ourselves in the lead." – John Edwards, No. 9 Stevenson Auto Group Camaro GS.R, overall and Grand Sport winner.
Things were far less hectic in Street Tuner where Tom Long, the last of six leaders, put the No. 25 Mazda / Semperfifund.org Mazda MX-5 ahead on the 49th lap. Long and Derek Whitis also took over the ST championship lead.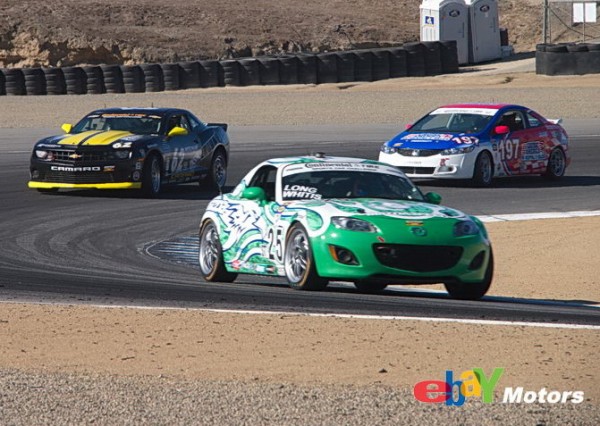 The winners' teammates and last year's ST winners Rhett O'Doski and Andrew Carbonell, No. 26 Mazda / Semperfifund.org Mazda MX-5, finished second.
Continental Tire Sports Car Festival Powered by Mazda Results:
GS 1st: John Edwards and Matt Bell – No. 9 Stevenson Auto Group Camaro GS.R
GS 2nd: Bryan Sellers and Mark Boden – No. 46 BCKSTRGR / Fall-Line Motorsports BMW M3
GS 3rd: Tonis Kasemets and Jade Buford – No. 71 Multimatic Motorsports / Aston Martin Racing / Zion Aston Martin Vantage
ST 1st: Derek Whitis and Tom Long – No. 25 Mazda / Semperfifund.org Mazda MX-5
ST 2nd: Rhett O'Doski and Andrew Carbonell – No. 26 Mazda / Semperfifund.org Mazda MX-5
ST 3rd: Gregory Liefooghe and David Levine – No. 81 Johnstone Supply / unitedBMWonline / Powerflex /Escort /CRC BMW 328i