Review: 2014 Chevrolet Spark EV
Likes:
DC fast charging capability
Sprinter-class acceleration
Guiltless around-town driving
Lots of information and displays to monitor energy usage
Dislikes:
6-speaker sound system
Non-perforated leatherette seats don't breathe
Minimal cabin insulation makes it difficult to converse on the phone using the hands-free Bluetooth system
Range anxiety
More zero-emission, electric-only powered cars are becoming available to the Eco-conscious and environmentally responsible consumer. Welcome the 2014 Chevy Spark EV to the ever-growing list of cars that quietly hum along the highway and forever pass the gas pump in lieu of a DC fast charger. Many of us are familiar with the Nissan Leaf, Chevy Volt, and Fiat 500e. Lesser known EV cars competing in this growing segment are the BMW i3,  Mitsubishi i-MiEV, VW E-Up!, Ford Focus Electric, Honda Fit EV, and smart fortwo electric drive.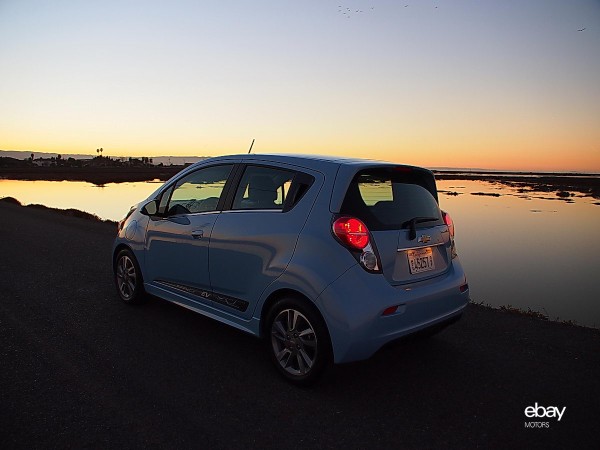 The Spark EV is driven by a 105-kilowatt electric motor which draws power from a 21-kilowatt-hour lithium ion battery pack and drives the front wheels. EPA estimates the driving range of the Spark EV to be 82 miles. On a full battery charge, in mild California temperatures, we were able to complete a 68 mile round-trip with sixty miles running at freeway speeds of 55 mph or higher, and still have enough charge to go another 15 miles.
Notably, the Spark EV is much more powerful than its gasoline-only counterpart. It may be short on range, but where the gasoline Spark's engine makes only 84 horsepower, the Spark EV's motor is equivalent to 140 horsepower. Likewise, torque jumps from a sluggish 83 pound-feet up to a whopping 400 in the Spark EV. With performance of 8 seconds in zero-to-60 acceleration, there's no reservations when it comes to acceleration.
Although the electric drivetrain adds 600 pounds to the Spark EV, it didn't feel like a heavier car from behind the wheel, a testament to artful balancing of the weight between front and rear axles.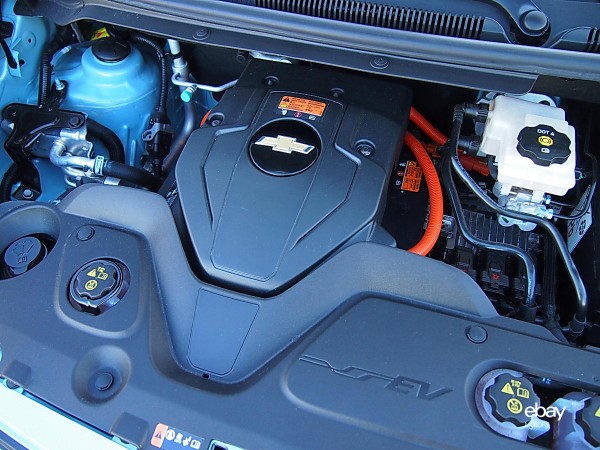 The Spark EV's MPGe and driving range is on par with its competitors, but sets itself apart from the EV crowd with an engaging drive personality and better than average sprinting capability. The stylish electric subcompact was fun to drive.  It handled well, and could be easily tossed around crowded city streets, along mountain switchbacks and down coastal highways. With a stickier set of tires, the Spark EV could improve its cornering performance with ease.
Unfortunately, we did find the ride a little rough. Pushing the accelerator made the car rush forward with that quiet and smooth inexorable force common to electric cars, but whenever the pavement turned rough, we felt each bump and pothole. A short wheelbase and the relatively small 15-inch wheels do their part in diminishing the ride quality, and Chevy likely stiffened the suspension tuning to handle the weight of the batteries.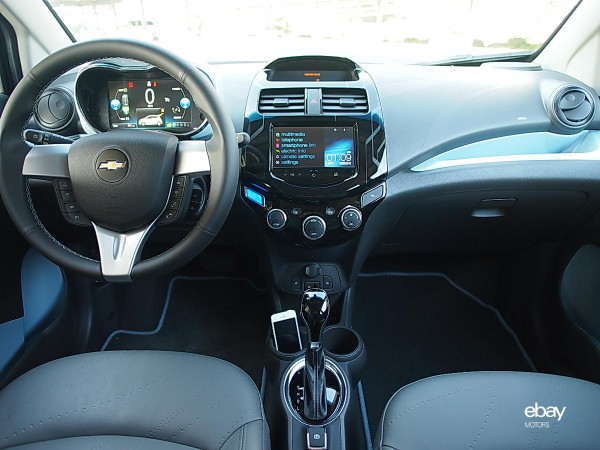 If you can live with the ride qualities of the Spark EV, then affordability adds to the EV's winning character and is thousands less than a comparably equipped Fiat 500e or Nissan Leaf. Looking at the purchase price of $27,820 (including destination charges) of the more feature rich 2LT trim and throw in a couple thousand dollars worth of dealership incentives, a $7,500 tax credit, and a $2,500 rebate in California to get a capable, fast, great small commuter for a great price.
Here is how the Spark EV compares on paper to other cars in its class:
| | 2014 Chevy Spark EV 2LT | 2013 Fiat 500e | 2013 Nissan Leaf S |
| --- | --- | --- | --- |
| Price | $27,820 | $31,800 | $28,800 |
| EPA Estimated Range (MPGe) | 128 city / 109 hwy / 119 combined | 122 city / 108 hwy / 116 combined | 129 city / 102 hwy / 115 combined |
| Driving Range | 82 miles | 87 miles | 75 miles |
| Power | 140 hp / 400 lb-ft torque | 111 hp | 147 lb-ft torque | 107 hp | 187 lb-ft torque |
| Electric Motor | 105 kW perm. magnetic drive | 83 kW electric-drive motor | 80 kW AC synchronous motor |
| Battery | 21 kWh Li-ion | 24 kWh Li-ion | 24 kWh Li-ion |
| Charging (120V / 220V / 480V) | LV1 / LV2 / DCFC | LV1 / LV 2 / N/A | LV1 / LV2 / DCFC |
| Battery Warranty | 8 years / 100,000 miles | 8 years / 100,000 miles | 8 years / 100,000 miles |
| 0 – 60 mph | less than 8 seconds (**GM) | 9.92 sec (*TFL.com) | 10 seconds (unofficial) |
| Top Speed | 90 mph | 88 mph | 90 mph |
| Seating | 2+2 | 2+2 | 2+3 |
| Passenger Volume | 86.3 cubic feet | 71.6 cubic feet | 92.4 cubic feet |
| Cargo volume (max.) | 9.6 cubic feet | 33.3 cubic feet | 30.0 cubic feet |
| Curb weight | 2,967 pounds | 2,948 pounds | 3,291 pounds |
Safety concerns in the minicar class are always top of mind. What helps is the 2014 Chevrolet Spark is a IIHS Top Safety Pick in its first year of eligibility, and is the only vehicle in the Insurance Institute for Highway Safety minicar segment to earn the rating in 2014 model year testing.
Spark's safety structure makes extensive use of high-strength and ultra-high-strength steels and its robust passenger protection package includes 10 standard air bags. Lightweight, high-strength steels constitute more than 62 percent of Spark's under body and 42 percent of its upper body. The car's rigid door beams and H-shaped structure under the seating area are designed to enhance protection in side impacts, and its high-strength cross members are designed to help manage crush space in side impacts. Additional safety features include a rollover sensing system, three-point safety belts in all four seating positions, safety belt pretensioners in the front driver and passenger seats, the LATCH child seat attachment system, adjustable head restraints and collapsible steering column.
The bottom line: A potent drivetrain gives the 2014 Chevrolet Spark EV some much needed zest and is highly efficient. Like other electric cars, the Spark EV offers limited usage scenarios due to its range, but is a capable sprinter with the speed and agility to back it up.