Old Town San Diego is a great place to celebrate Cinco de Mayo. So that's where I headed for last month's festivities. And it turned out to also be a great place to hold a small car show at the same time. While you might expect to see some Impalas and Monte Carlos at a lowrider event, who would plan on seeing a 1949 Hudson Brougham? Heck, you hardly see a Hudson at any car show.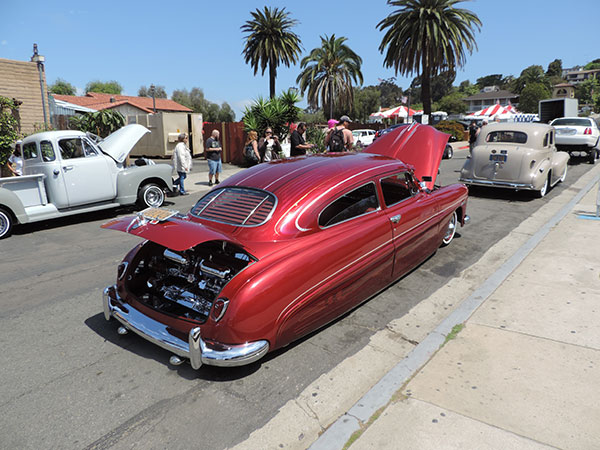 Lowriders are an iconic adaptation of classic Detroit iron. After the Second World War, a lot of cars had their suspension altered and dropped for a cool lowered look. Add some weight to the trunk or remove a few leaf springs, and you had a lowered ride for cruising the boulevard. But when the authorities started enforcing statutes for cars being lowered "too" much, ingenious lowriders came up with a solution—hydraulic suspensions that would change the stance of the ride with the flick of a switch. That spawned another cool trick: altering the stance while driving down the road, allowing for the cars to hop up and down. You cannot easily do that with a modern suspension.
While lowriders may often work their magic on Chevy Impalas or Monte Carlos, all makes are fair game. It was a treat to see this Hudson on the streets of San Diego. The stance looks great and the original lines of the sleek Hudson help enhance the lowrider look.  The truck was outfitted with the necessary chromed hydraulic old-school Pesco pumps and reservoirs.
The owner opted for a red-on-red paint scheme with candy and metallic flakes to make the body pop. The understated pinstriped lines mimicked the factory lines of this sleek Hudson.
Hudson Motor Car Company dates back to 1909. Production stalled during the war but resumed in 1948 when the company launched their "step-down" bodies, which put the passenger compartment lower inside the frame of the car, creating a floor that you stepped down into—and a low center of gravity for better handling. Hmm. Maybe the post-war Hudson was tailor-made for the lowrider way of life.
Hudson also made legendary racing cars for the NASCAR circuit, which gained new popularity when the Pixar movie "Cars" featured Paul Newman's voice for Doc Hudson, a 1951 Hudson Hornet. In 1954, Hudson merged with Nash-Kelvinator Corporation to form the ill-fated American Motors.
This lowrider in San Diego helps prove the point that American ingenuity and individualism can take any car marquee and transform it into whatever the owner wants.  Just when you think you have seen it all, here comes a car to break the mold, like this Hudson Brougham lowrider.