Reuniting the Painted Body and Built Chassis
Our eBay Project Car has come a long way since our last report. We built the entire rolling chassis with restored, rebuilt, and new parts sourced on eBay. It looks great, and is almost an art object on its own. The Daytona Blue paint work is complete and came out looking unbelievably good. The $20k investment and all the hours put into the fiberglass body work and paint was well worth it, as it looks as good as any C2 Corvette body we have ever seen.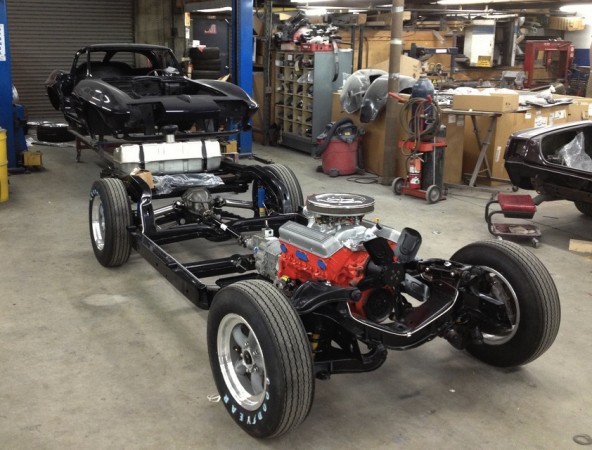 The chassis build was an adventure using eBay. It is pretty easy to progress with a Corvette restoration using a catalog full of reproduction parts, but the beauty of this eBay build is the number of NOS GM and used original parts that we were able to add. When we bought it, this car was filled with low-quality aftermarket components and many parts from the later year Corvettes. That isn't always bad, but the 1963 coupes are famous for some details that were only included that year. We set out to find them on eBay and it worked! Trim, chrome, gauges, valve covers, exhaust manifolds, lights, emblems, and more were all set right during our build. It is what we would want on a Corvette, and we think the eventual buyer of the car will really love it. Check out the horn relays below for the old vs. new.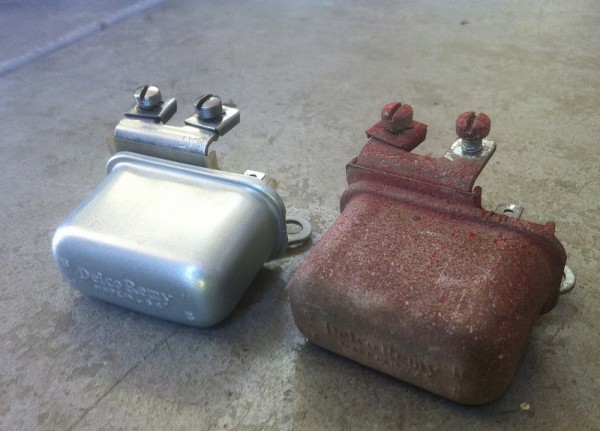 The freshly painted body is shown in the booth below.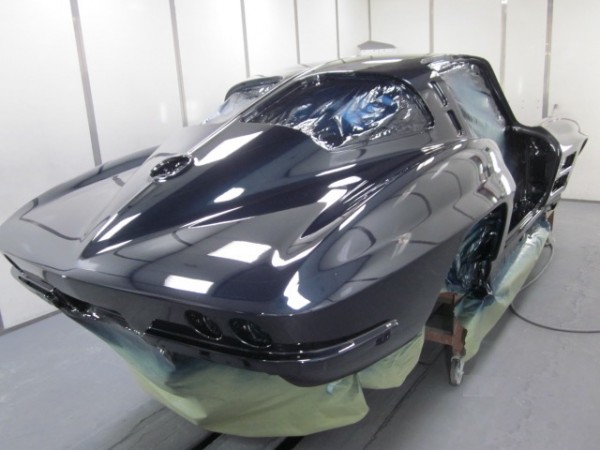 The shot below shows the rear suspension both before and after restoration. Everything you see was purchased on eBay… the rebuilt posi-traction differential, the driveshafts, the disk-brake trailing arms, the stainless brake lines, the crossmember bushings…. all of it! Even the stainless alignment shims and nuts and bolts were from eBay.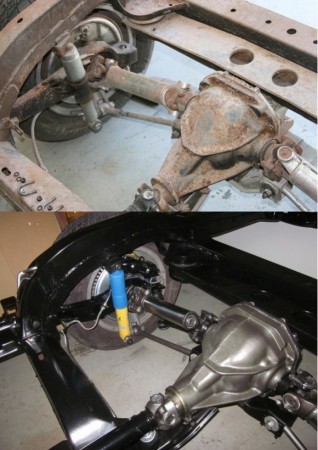 Things looked so good with all the fresh parts that the eBay folks asked to display the car at the Monterey Motorsports Reunion at Laguna Seca Raceway (below). Many Bring a Trailer readers were on site and gave us more good feedback on the car. Their comments on the build has been great so far, with 125 entries in each BaT story being the norm, with ideas about parts, colors, history, and personal Corvette experiences. They all seem to be experts on eBay buying and selling as well, which has been fun to see.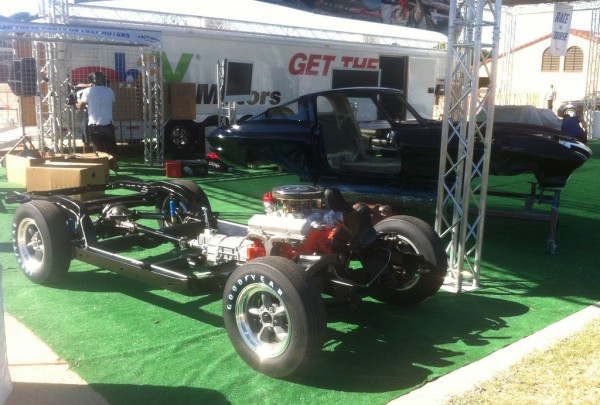 A big step in the restoration process was the marrying of the finished body and the restored chassis. This was done at the body shop, with plenty of watchful eyes and helping hands. Everything lined up nicely, and seeing the blue body against the black powdercoated frame and restored engine bay is really stunning. And the best news… there is no more red overspray!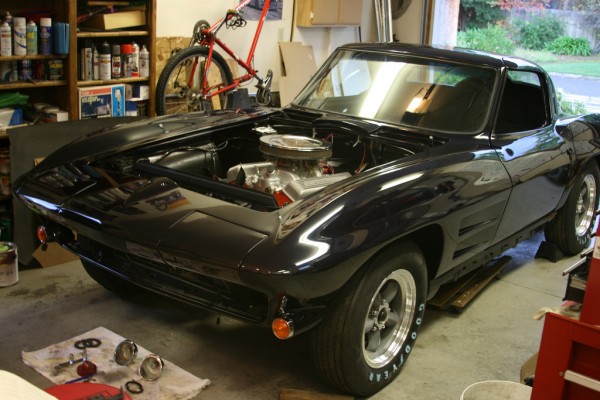 Check out full updates #9 – #12 below on Bring a Trailer, and stay tuned here for more updates as we quickly move towards having a drivable Corvette!
eBay Project Car Update #9 This Chassis Rolls
eBay Project Car Update #10 Come See it at Laguna Seca
eBay Project Car Update #11 Body on Chassis
eBay Project Car Update #12 The Clean Work
Go back to updates #1 – #8 if you missed our introduction to the restoration project: Bring a Trailer 1963 Chevrolet Corvette eBay Project