Progress Report #2 – The Color Change and the Bare Frame
Last week we introduced our '63 Corvette project and went over the first four updates documented in our progress reports.
Our fifth update was a major one, we had the car at the paint shop and were going to pull the body away from the chassis. The fiberglass body was flexible and fragile, so we needed to take extra care, but the guys at B-Line Body Shop in San Jose, California had done this many times and we knew that performing this at their shop was a far better option than hoisting it in our home garage. So off it came, and we learned plenty more in the process!
We knew that we wanted to change the color of the car to something other than red when we purchased it. Some "quickie" restorations change paint colors but you can still see traces of the previous shade in the wheel wells, engine bay, and in the trunk. That just wouldn't do for this car, as we really wanted to get it right, and pulling the chassis away and the body all the way apart was the right way to eradicate all the red paint and overspray. And better yet, this meant that we could take the frame back home and restore it to our liking while B-Line worked on the body for three months.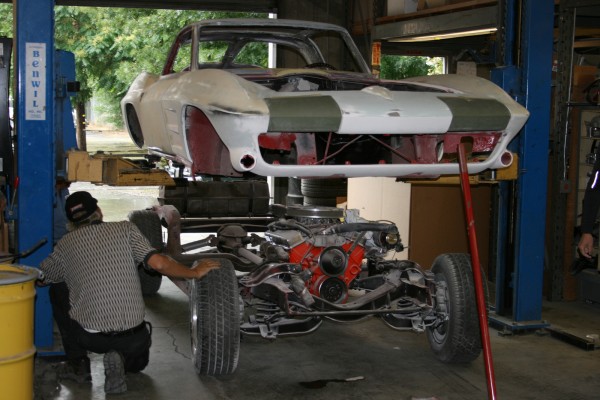 So now that we had the chassis back home, we assessed what we had, drew up a list of parts we needed, and hit eBay Motors to see how many we could find immediately. This was a great learning experience, and we found that many NOS and reproduction Corvette parts were ready to go via Buy-It-Now. We started making those orders, but also knew that we wanted to source some special vintage parts and aftermarket performance parts that were harder to select. Thus began many, many hours of scanning eBay Motors and setting up mobile alerts to our iPhone via the eBay Motors App so that we could get the right parts.
We learned quite a bit from these searches, and landed on some great vendors and parts. As a result, we now have a Kiesler RS400 overdrive 5-speed manual transmission and 1965-and-later 4-wheel disk brakes on the car. These two updates will mean a major improvement in drivability, and without changing the proper period aesthetic of the car.
So this brings us up through our 8th feature story on the project. While the body was at the paint shop, the chassis was totally stripped and powder coated after verifying that it has no rust and was very straight. We now have it back and the assembly has started. Engine, transmission, and suspension arms are all installed. And over at the body shop, the red is mostly gone and a ton of fiberglass surgery has been performed to make this the best looking split-window around.
Check out full updates #5 – #8 below on Bring a Trailer, and stay tuned here for more updates as we quickly move towards having a drivable Corvette!
eBay Project Car Update #5 Bye, Bye Lipstick Red
eBay Project Car Update #6 Off With the Body
eBay Project Car Update #7 The Bare Frame
eBay Project Car Update #8 Coated and Clean
Go back to updates #1 – #4 if you missed our introduction to the restoration project: Bring a Trailer 1963 Chevrolet Corvette eBay Project