Introduction of Bring a Trailer eBay Motors Restoration Project: 1963 Chevrolet Corvette Split-Window Coupe, video + photo gallery
At Bring a Trailer, we feature the best classic cars for sale from all over the Internet. Our army of readers sends us links every day of the best projects, potential bargains, and interesting one-offs every single day. Any car fan knows that great cars are listed on eBay, so naturally a good percentage of our features link to what we consider to be the best eBay auctions. We like to discuss different aspects of these cars with our readers… like wheel choices, accessories, and other details that are really well done, or could help make these cars even better. Our readers love it too, and contribute their experience and expertise in our comment section on every story.
This is where the eBay Project Car idea was born. The sorting out of any classic car is often done with real vintage parts, either aftermarket or take-offs from similar vehicles. Swap-meets and junk-yards are pretty much a thing of the past, and we do nearly 100% of our own part sourcing on eBay. We wanted to work together with eBay Motors to see if we could buy and sort one of our dream cars… the 1963 Chevrolet Corvette split-window coupe. This wasn't going to be a money-no-object project, but rather a realistic build by three privateer restorers in our own home garage, so budget trade-offs would be key, just like it is for any restorer. eBay was happy to sponsor the project to help it get off the ground.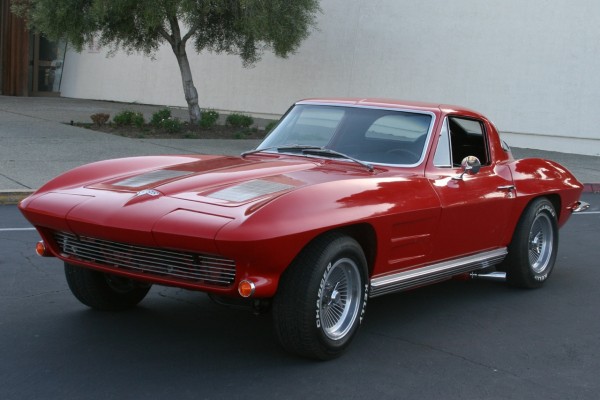 Vintage racing is a big part of our inspiration at Bring A Trailer. Whether it nostalgia drag racing, vintage road racing or historic stock cars, we like the way real street cars were modified for performance back in the day, often times with backing from the factory. Those cars don't seem to age the way modern customs and show cars do, so we wanted to go for a period correct look. The 1963 Corvette Z06 factory race cars have that iconic look, and there are a ton of great photos of the cars racing in late 1962 and 1963, just as the C2 Corvette was being introduced in showrooms. This is the look we wanted to shoot for. Could we do it on eBay? We thought so!
The search was on. We wanted to find a split-window that we could afford, and that we wouldn't mind modifying. Many Corvette fans and restorers take these cars to 100% stock condition, right down to all the part number stampings, colors, hose clamps, and fasteners. That is not our plan. While we want to keep the car looking like it could have been on track in 1963, we appreciate modifications from stock, especially if they make the car more fun to drive on today's roads.
So we found the car in February, and had plans for a six-month build. The car was found in Yakima, Washington and purchased via Buy-It-Now on eBay for $33,500. It ran and drove, but had a good number of problems and was a mash-up of many different Corvette components.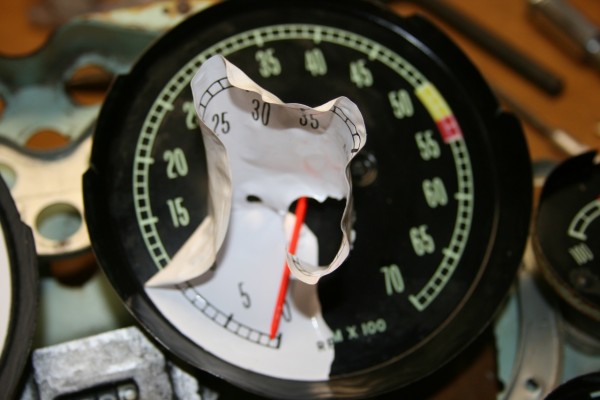 As it was shipped down to our personal garage in California, we announced the project to our Bring A Trailer readers. The charge was for them to help us sort out the car by finding all the parts we needed on eBay. They nearly overwhelmed us with over 275 comments on that introductory story… the most we had ever had on our site. They were clearly excited and had plenty of ideas to share! See all the comments here: Let's Make It Great: Introducing The eBay Project Car (comments)
Our first three updates all revolved around discovery of what we had purchased. With the help of the readers, we deciphered the chassis and body tag numbers, and verified the frame to be a proper 1963 coupe (sometimes you wonder with cars that have been modified!). That was great to learn. We also found that the car had a ton of 1964 body and interior parts, and that it once had side pipes and fender flares. We bought the car knowing that we wanted to paint it, so the terrible red paint didn't deter us. But the crazy red overspray would mean that we needed to separate the body and frame for the color change. This was going to be a big task, but our readers were up for it, and so were we.
Check out the first four updates to the story here:
The eBay Project Car: Digging In and Dash Remedies
eBay Project Car Update #2: Crimes Against Humanity
eBay Project Car Update #3: Albums, Numbers & Dials
eBay Project Car Update #4: Stripped and Shipped
Follow along as we update the progress in upcoming posts!
1963 Chevrolet Corvette Progress Report #2
Video introduction by Randy Nonnenberg/Bring a Trailer
Randy introduces the Bring a Trailer and eBay Motors restoration project of a 1963 Corvette split-window coupe at an event held at eBay headquarters in San Jose, Calif.