One of the cars in my collection that I haven't given much attention to yet is the Bob Sharp-built pace car that was used the Camel GT series starting in the mid-1970s.
Bob Sharp was building a Z car to run in the IMSA GTU class in 1975 and was also hired to make the pace car for the series. Made from two 260Z chassis with what amounts to 240Z bodywork, Sharp's IMSA car and the pace car were essentially given the same set up. They got the same wing, huge flairs and G nose, along with a roll cage and fuel cell. The main difference was the pace car got a passenger seat for ride-alongs and they didn't use race bushings on the suspension, so it would have a little smoother ride. Both cars were powered by a Nissan overhead cam 2.8L straight six with three Mikuni carburetors that is supposed to make over 300hp. The transmission is a 5-speed Nissan Comp Option 2 direct drive.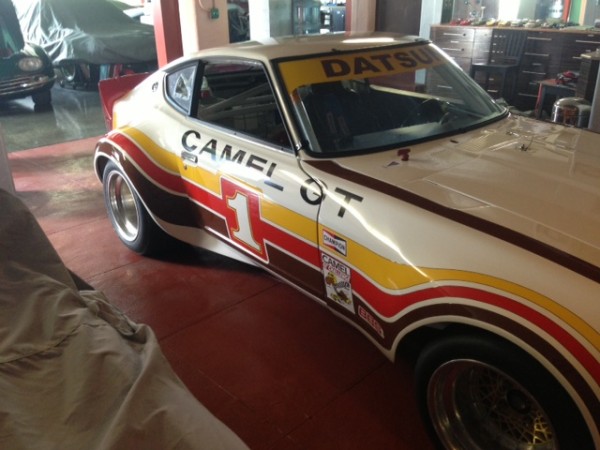 The pace car was used in the Camel GT series for years. After its career as a pace car ended, some reports say it was used for racing lessons at Road Atlanta. Eventually, it was just left on the grounds of the track, neglected and rotting. I've seen photos of it from 1986 with its wheels off, hood askew, just sitting in the dirt. It's a shame that it fell into such sorry shape. But at the time, well, it was a Datsun, which was one strike against it. And the parts weren't really worth anything. It wouldn't have made a good race car, since it was too dated to compete anymore and it wasn't old enough to be "vintage" yet. So, there it sat.
It changed hands a few times and finally was redone in the Bob Sharp red, white and blue livery, as a clone of Sharp's competition version of this car. (That car had been wrecked at Road Atlanta in 1976.) As a part of that refurb, the fenders were shaved down to match the flairs on the IMSA car. It was run in VARA and SVRA vintage races for 12 years with this setup.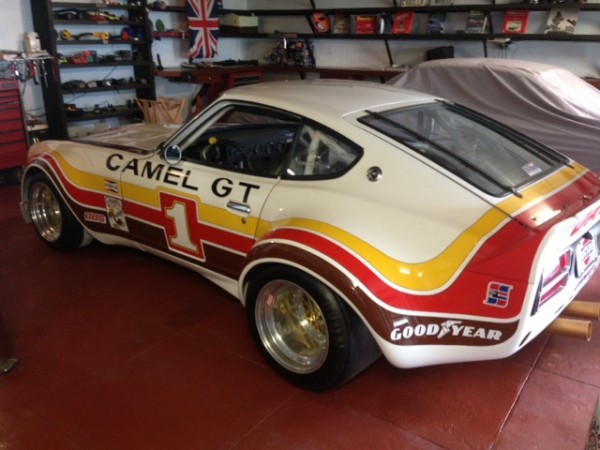 I bought it about three years ago. It was agreed by all (including Bob Sharp) that it needed to be put back into the Camel livery. It was a painstaking process, since we were working mainly from pictures. In addition to matching the original paint job and graphics, we had to build the flairs back up to their original width.The rims were originally almost as deep as they are tall—14" x 15".
You can't go wrong with the Bob Sharp livery, but brown, burnt orange and yellow is the way this car was meant to be. With those colors, plus the impossibly wide flairs and a cigarette company logo, this car is a perfect snapshot of racing in the '70s. Ugly is in the eye of the beholder with this car.
It's interesting how all of this peripheral stuff is entering the vintage racing hobby. Before, all anyone cared about were the actual race cars. Now, if you get your hands on a transporter and restore that, it's a big deal. Some of those go for hundreds of thousands of dollars. Pace cars are kind of an extension of that. I mean, this is a race car. It's one of one ever built and it led the field at a ton of races. Yet, in terms of competing, it has no race history whatsoever.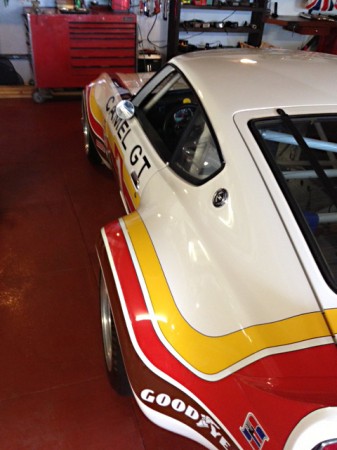 What's this car worth? What will it ever be worth? I really couldn't tell you one way or the other. Out of every car in my collection, that's the only car that I don't think I could guess the value of. I really have no idea. Luckily, I didn't buy it to flip it, or as an investment of any kind. I just got it because it's a cool piece.
The Sharp cars and the Newmans are pretty well respected now, but their genius hasn't been fully recognized yet. They're really going to go down as pioneers some day. Race history or not, the fact that it's Bob Sharp-built and one of one makes it really cool.
I have no particular plans for it, aside from it being a cool conversation piece. It's probably eligible for vintage racing, but I doubt it would be let into Monterey. Even if it did, there's no good category for us Z guys anyway. We wind up getting lumped in with way faster cars. So, if I'm going to have a 935 or a Dekon Monza blowing past me all day, I've got other Z cars I'd rather beat on. I have no desire to see those huge fenders get all chipped up.
---
Hear more from Adam Carolla by subscribing to CarCast on iTunes or visit CarCastShow.com