Photos by Norman Woo
The world premiere of the BMW i3 Concept Coupe sees the BMW Group unveil a particularly nimble and emotive version of its concept for sustainable motoring with zero local emissions. The concept presented at the 2012 Los Angeles Auto Show has been brought out in parallel to the ongoing development process for getting the first ever all-electric model from the BMW i brand ready for series production, and demonstrates the potential for conceivably extending the model range. The state-of-the-art, clean-cut and open design showcased by the BMW i3 Concept Coupe represents a pioneering form of urban mobility that makes sustainability awareness an intrinsic part of the premium profile.
The BMW i3 Concept Coupe sharply focuses the spotlight on the dynamic performance that can be achieved with the purely electric version of the BMW eDrive technology. The Coupe is also propelled by an electric motor developed by the BMW Group, which develops a maximum output of 125 kW/170 hp and peak torque of 184 lb-ft, and channels its instantaneous power delivery to the rear wheels via a single-speed transmission. The electric motor draws its energy from the lithium-ion storage cells under the floor. Positioning the battery units here has the effect of lowering the center of gravity considerably, which further adds to the vehicle's sensationally agile handling.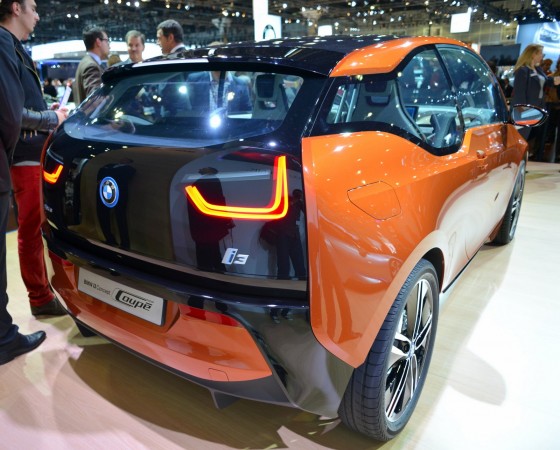 Returning to the stage is the BMW i8 Concept alongside the i3. The i8 Concept made its first appearance at the 2009 Frankfurt Motor Show and was also in the movie, Mission Impossible 3: Ghost Protocol. This concept will become reality when it goes into production late 2013 for an official production release in 2014.