Audi Sport Quattro Laserlight Concept
Dressed to impress in Plasma Red paint, the Audi Sport quattro Laserlight concept was the grand closer at the 2014 International CES Audi keynote. The keynote was hosted by Big Bang Theory cast member, Kunal Nayyar, but even the CBS sitcom star was upstaged when the Laserlight concept rolled onto the stage.
Audi wanted to push the performance envelope of a hybrid car and the Laserlight concept doesn't disappoint. Created as a plugin hybrid, the Audi hybrid system combines a 560 hp 4.0L biturbo V8 and 110 kW electric motor for a combined 700 hp and 590 lb-ft torque, and will average better than 90 mpg. Zero to 60 is covered in a scant 3.7 seconds and top speed is a blistering 189 mph.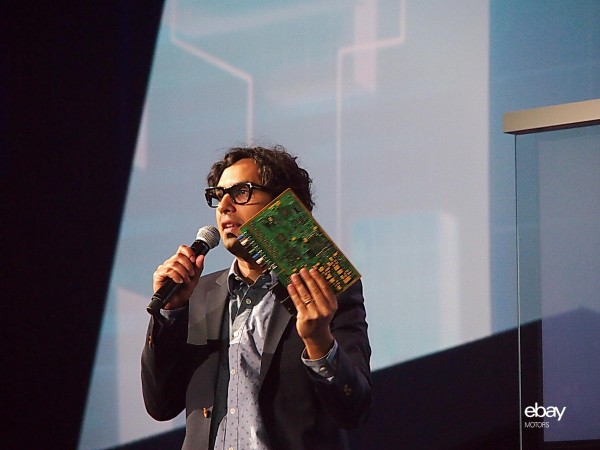 On the flipside, the Sport quattro Laserlight concept has an electric-only range of up to 31 miles when its 14.1 kWh Li-ion battery has a full charge.
"I am 100 percent committed to making sure Audi continues to bring 'Vorsprung durch Technik'. My team of more than 10,000 engineers worldwide shares this commitment."

"We are designing a driving experience you don't find anywhere else. That is the promise of Audi. And we deliver on that promise, as you will see here at CES."

Prof. Dr.-Ing. Ulrich Hackenberg
Board Member for Technical Development, AUDI AG
Audi has for many years has pioneered new lighting technologies and created a definitive look with their LED daytime running lights. Recently Audi introduced Matrix LED headlamps in the A8 sedan that have an output close to daylight quality and managed by software that individually turns off any light that would dazzle oncoming drivers, bikers, or pedestrians.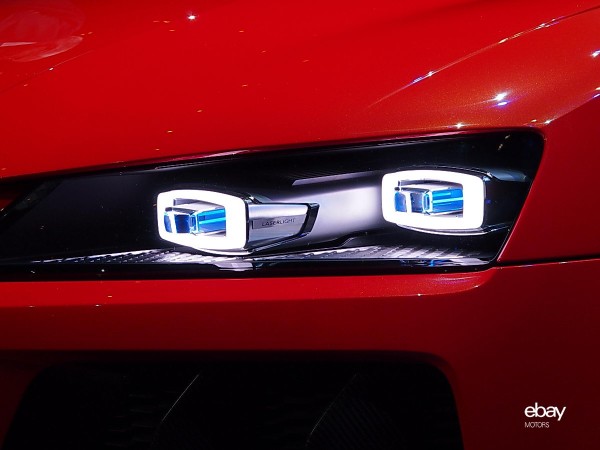 With the concept car's double headlights, Audi demonstrates the future of lighting technology with a combination of LED and laser light. Two flat, trapezoidal bodies can be seen inside the headlights. The outer body uses LEDs and a diaphragm to produce the low beam; the inner body produces the laser high beam. The high-performance laser diodes are significantly smaller than LED diodes, measuring just a few micrometers in diameter. With a range of nearly 1,640 feet (500 meters), the laser high beam shines roughly twice as far and three times brighter than an LED high beam.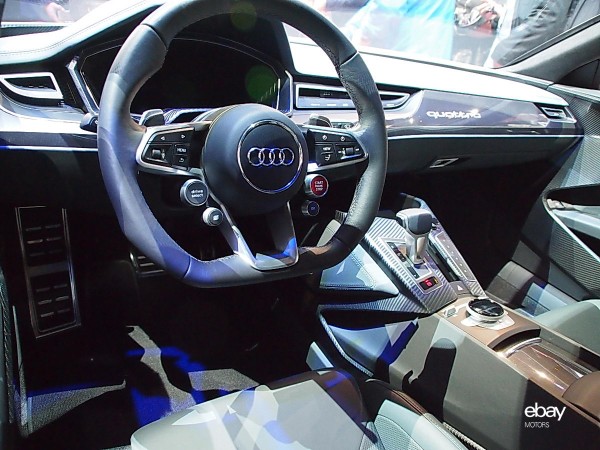 The hexagonal Singleframe grille also provides a glimpse at the future design of the sporty production models. Its lower section is nearly virtually upright; the upper section follows the line of the engine hood. The grille insert is a typical racing solution. The low grille emphasizes the width of the concept car. Two large, vertical blades divide each of the massive air inlets. Their form is taken up by the creases in the engine hood. The splitter made of carbon fiber-reinforced polymer (CFRP) is placed far to the front, as with a race car.