The 2014 Audi A5 Cabriolet is a beefed up – and slightly sexier – version of its slightly older sister, the 2013 Cabriolet. For 2014 the A5 Cabriolet picks up a more powerful engine than its predecessor, a 220 horsepower 2.0-liter DOHC inline-4 with FSI direct-injection and a turbocharger (last year's 265 horsepower 3.2-liter V6 with FSI direct-injection has been discontinued). Also new for the 2014 A5: Sleeker headlights and restyled taillights, a new grille, and an aggressive lower front fascia. The formerly optional Convenience package is now a Cabriolet standard and includes Bluetooth connectivity, a Homelink garage door opener, music interface and a driver info system. Though the list of changes is subtle, the resulting difference in appearance is significant – this new car is gorgeous.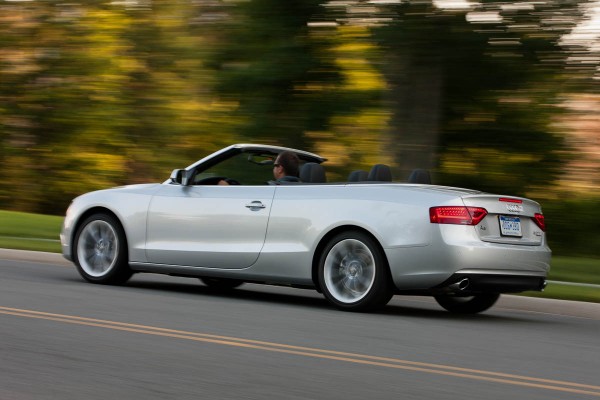 In a class of its own, A5 Cabriolet features an ultra light-weight, insulated cloth folding top which can be raised or lowered at speeds of up to 31 mph. Also wonderful for the top-down driver comes a head-level heating system, which does wonders to keep you comfortable on all but the coldest of days – and give you the excuse you were looking for to drop the top in less than ideal weather.
For those that can't get enough of that 'wind in your hair' experience, the A5 Cabriolet fits the bill, but then again so does the 2013 BMW K 1600K GTL Motorcycle. For this very reason, we know it's going to be excruciatingly difficult for the winner of the eBay garage sweepstakes to choose what they want to park in their own garage. Enter the Choose your Wheels Sweepstakes , so that you can be the one laying awake at night sweating over which one you want more.