FRP Customs is known for doing complete frame-off restorations, resto-mods, and custom car design. We couldn't stop drooling over a unique 1978 Chevrolet Corvette — which showcased ARC Audio's expressive and articulate audio equipment — in their booth at the 2014 International CES show.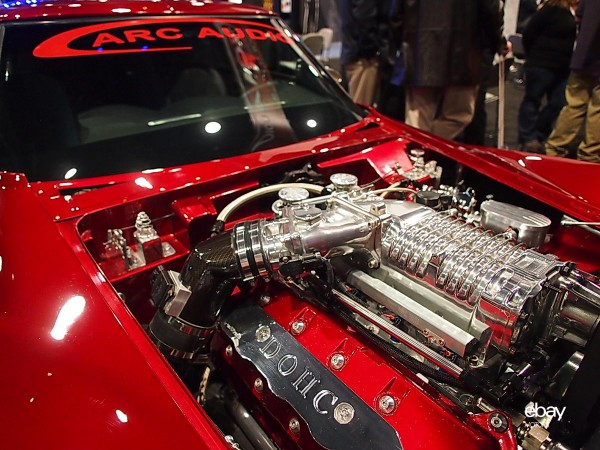 The initial plan was to restore the interior to its original condition, but the project just kept growing and growing. After dumping the original idea of restoring to factory specs, a new interior was modeled similar to a '63 Vette and hand-built to accommodate a high-end, custom audio install. The hand-built dash is far beyond the original GM parts with regards to fit and quality, and looks ten times better.
We were puzzled by the Hurst shifter that had "Ford Racing" imprinted on the shift knob until it was explained that the entire drivetrain was all Ford — supercharged Ford 5.4L engine, Ford 5-speed transmission, and Ford rear end make up the Vette's powertrain. Hence, someone came up with the nickname, Fordette.
More than 2,000 hours of body work went in crafting this one-of-a-kind Fordette. The two ugly, black, plastic bumpettes were shaved off and a new, front end was formed. Front fenders were split and hood height was raised 2 inches to fit the supercharged Ford motor.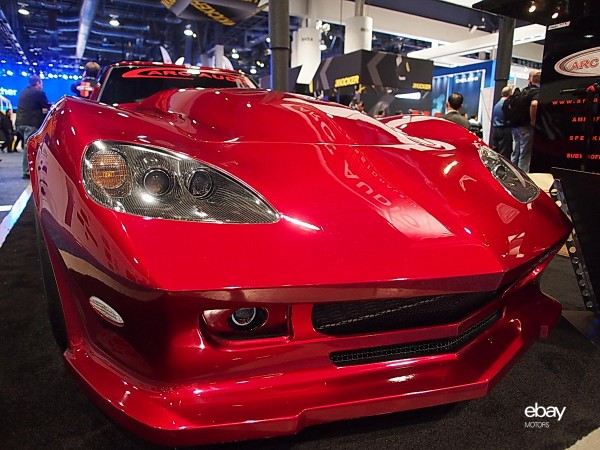 Factory popup headlights were replaced with Z06 headlights and the secondary lights integrated into the front spoiler were replaced with Ford OEM DRLs you can find on many of the current generation Fords.
What really blew our minds were the "suicide" doors. Because the C-pillar was never designed to support the weight of a door, nearly a 100 hours were spent adding enough metal to support the door's weight and fabricating custom hinges.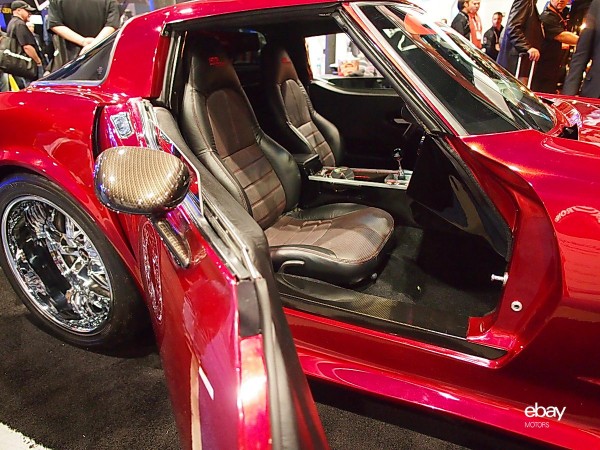 Additionally, the rear end was cut to widen the body 4 inches and add 9 inches of height using a technique called stick framing and then back-filling with fiberglass. Corvette aficionados will notice the C5 taillights that are custom fitted to the rear. Click the link to view early photos of the Fordette under construction.
Not so obvious to prying eyes was the ARC Audio install integrated into the the Fordette. An Eclipse head unit was used as the source and sends a clean signal to an ARC Audio PS8 digital sound processor and a pair of ARC Audio Signature Edition amplifiers (SE2300 and SE4200). Music to our ears was reproduced through a set of ARC Audio Black Series 6.3 3-way component set of speakers.