The Ultimate Stylish Sporty Eco-Commuter Car
How would you like a great deal on the most stylish electric car on the road—and support an excellent social cause at the same time?
You'll have your chance starting Oct. 12, 2013 — when eBay and the Motion Picture & Television Fund (MPTF) auction off nine brand-new and totally snazzy Fiat® 500e electric cars personalized by A-List celebrities that include Jennifer Lawrence, Ben Affleck, Clint Eastwood, and Ron Howard.
The charity auction will benefit the MPTF, which for more than 90 years has served as a beacon of hope for entertainment industry members in their time of need. As a charitable organization, the MPTF provides financial assistance and services essential to the well-being of the community. It's a great cause.
Hugh Jackman, a Tony winner and Oscar nominee, will bring his hit Broadway show "One Night Only" to Los Angeles on Oct. 12 to kick off the auction. Jackman's personalized FIAT 500e will be auctioned live at the event. The remaining nine Fiat 500e EVs, personalized by an impressive list of Hollywood stars, will be auctioned on eBay over the following 10 days, through Oct. 22.

The FIAT 500e makes the absolutely perfect auction prize. In April, I spent a day driving the cute two-seater in and around Los Angeles. The stylish electric subcompact was a blast. It handled like a charm, and could be easily tossed around crowded city streets, along mountain switchbacks and down coastal highways. With performance of 9 seconds in zero-to-60 acceleration, it's got real zip, especially when peeling away from stoplights.
"The car loves 45 miles per hour," Brett Giem, the 500e's chief engineer, told me. "It just lives there—based on driving dynamics, the ability to accelerate, and how it beats other cars on the road."
Is An Electric Car Right for You?
Leaving aside the enormous environmental and social benefits of driving an efficient car that uses electricity rather than petroleum—and has no tailpipe emissions—the 500e is a great daily commuter. Here's why:
Plenty of range: My 43-mile test drive used nearly half the battery pack, revealing that the 500e can reliably deliver driving range of nearly 90 miles per charge. That's fine for daily use. More than 90 percent of Americans drive less than 40 miles per day on average. With the 500e, you'll have about double that average daily range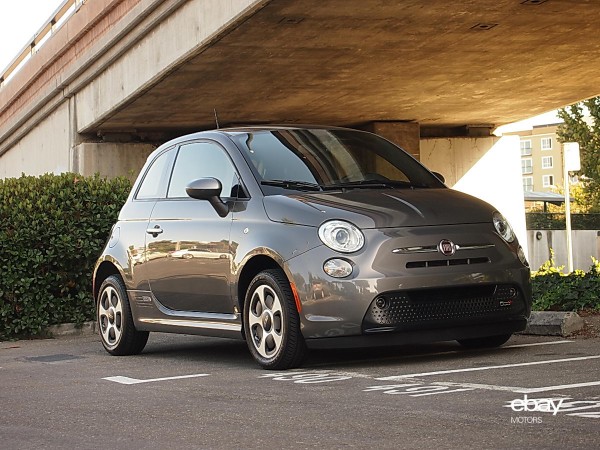 Right size for commuting: Just like the gas-powered Fiat 500, the car exudes Italian charm. Part of it comes from its diminutive size, offering very easy parking and a tight turning radius for urban maneuverability. The backseats are snug and the hatchback cargo is decent, if not entirely generous. It adds up to a ton of fun in the city, but should not be considered a family-hauler or a highway cruiser.
Charging is easy: A full charge via the car's 6.6-kW charger takes about four hours. That requires a home or workplace charging station that feeds 240-volts (same as a typical home clothes dryer outlet). Most drivers won't return home on empty, so charging time will often be just an hour or two. You can use regular 120-volt electricity, but expect to charge overnight (when you are asleep and the car is parked). Depending on which one you get, a home charging station costs, with installation, between about $600 to $1,000. Having one at home is convenient: it takes all of about 30 seconds to plug in every night when you get home. Wake up and you have another 90 miles available.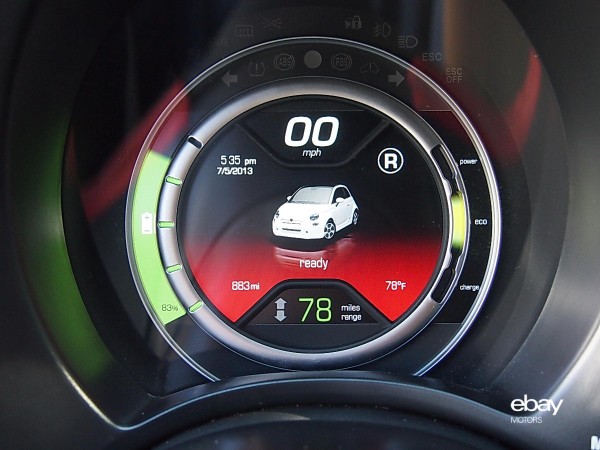 Road trips are possible: What happens if you want a weekend getaway that's a few hundred miles away? FIAT has a solution. Every customer that buys or leases the car qualifies for a free car rental at Enterprise for one day per month. Days can be banked for up to 12 rental days per year. Any segment of car can be rented from Enterprise, offering the convenience to switch to a vehicle suitable for a family trip, weekend jaunts for couples, or hauling stuff. Use the 500e for your everyday commute, and then book an Enterprise car for that monthly road trip.
There you have it. Now, get over to www.ebay.com/fiat500emptf on October 12 and submit your bid. The Motion Picture & Television Fund will appreciate it. Mother Earth will thank you. And your daily commute will become like a silent and speedy dash through the streets of Milan.