Last November at the 2013 LA Auto Show, Toyota announced its commitment to building cars with a hydrogen fuel cell powertrain along with other big carmakers such as Honda and Hyundai. Today at the International CES show in Las Vegas, Toyota released more details behind its fuel cell development program and told us that we can expect to see fuel cell electric vehicles reach the general market within two years.
"Fuel cell electric vehicles will be in our future sooner than many people believe, and in much greater numbers than anyone expected."

— Bob Carter, Toyota Motor Sales senior vice president of automotive operations
What's not to love about hydrogen fuel cell vehicles? Basically, hydrogen gas is mixed with oxygen to create water and electricity. Zero harmful emissions and it uses a fuel source that is abundant and renewable. The challenge up until recently has been making the cost affordable to the general consumer, refinement of the technology, and creating an infrastructure to support a fleet of hydrogen fuel cars on the open road.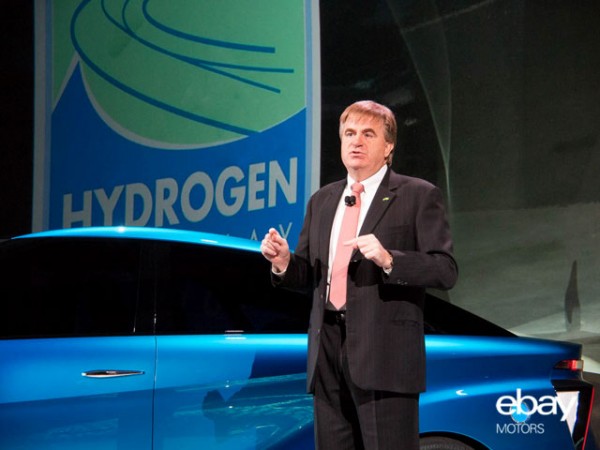 Since 2002, Toyota R&D efforts have resulted in a 95 percent cost reduction in the powertrain and fuel cell tanks of its FCV compared to what it cost to build the original prototype in 2002.
Advancements in technology helped make possible a 30 percent size reduction of the powertrain and forward thinking California legislature will help build up the missing infrastructure needed to support a fleet of hydrogen powered cars in northern and southern California. Recently California legislators approved more than $200 million in funding to build about 20 new hydrogen fueling stations by 2015 and a total of 40 by 2016.
While specific sales volumes will be announced closer to launch, Carter said that Toyota has revised initial market plans and requested additional vehicles. More information will be announced in the weeks and months ahead, including U.S. sales volume targets, the name of the vehicle and comprehensive specifications and performance data. Consumers interested in learning more about the Toyota Car of the Future can visit www.toyota.com/fuelcell.