Adam Carolla, along with Matt D'Andria, will be hanging out and signing autographs at the eBay Garage on Sunday, December 9 between 12 – 12:30 pm. Come visit the eBay Garage, chat with Adam and Matt, and check out Adam's Datsun BRE Roadster. We are located at the entrance of Kentia Hall near South Hall of the L.A. Convention Center.
No worries if you miss Adam on Sunday. The eBay Garage and our team of professionals will be at the L.A. Auto Show all week through Sunday. You can rest your weary feet in the eBay Motors P&A lounge, play a game of pinball, or register for a chance to win $1,000 from eBay Motors towards getting your garage in order.
We are also demonstrating how to setup vehicle profiles on the all-new and improved eBay Garage. eBay Garage is designed to take the excitement that eBay Motors users have for their own cars, trucks, and motorcycles, and share it to other users in the community. The eBay Motors community is vast, and with potentially hundreds of thousands of vehicles to be added, it's an easy way for gearheads and novices to share their enthusiasm around anything with a motor.
You can find us at the base of the escalators walking towards Kentia Hall where the Aftermarket and Tuners are setup for the L.A. Auto Show.
###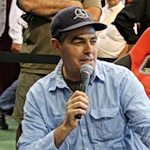 More Adam Carolla. Our video of Adam's podcast recorded at the SEMA Show eBay Motors booth