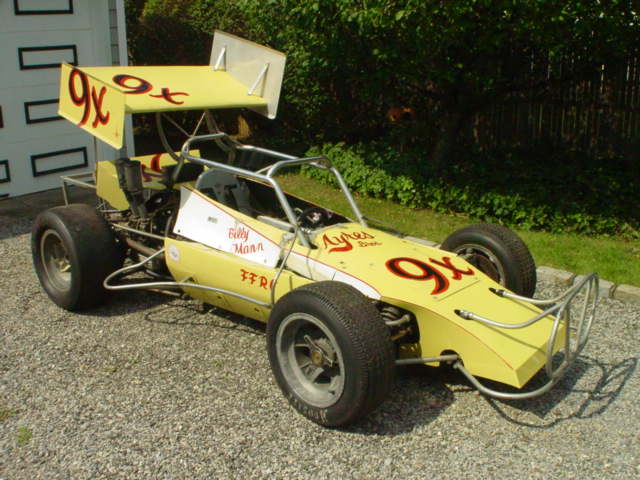 In the early 1960s Formula 1 teams from Europe began to descend upon the Indianapolis Motor Speedway with their mid-engined Cooper, Lotus and Brabham race cars. Within a few short years the mid-engine layout had replaced the traditional front-engined Indy Roadster at the Brickyard as the dominant design — a standard that remains to this day.
At the time USAC (United States Auto Club) sanctioned the Indianapolis 500 as well as top-level Sprint Car, Midget, and other categories of competition. Inspired by the success of the mid-engined race cars at Indianapolis, builders of Sprints and Midgets began to construct mid-engined  (sometimes referred to as rear-engined) versions of their designs for those lower categories. Not only were the mid-engined cars faster on paved ovals than their front-engined counterparts, in some cases they were quickly gaining at dirt tracks, where the front-engined cars were thought to have an insurmountable advantage.
Facing pressure from car owners with significant investments in front-engined cars, fans who preferred the more exciting driving style required to push the front-engined cars around the track, and a general belief that allowing mid-engine cars diluted the essence of the sport, USAC summarily banned mid-engined Sprints and Midgets from competition in 1973. Emboldened by the USAC decision, smaller regional sanctioning bodies followed suit until there was virtually nowhere left for the mid-engined circle track cars to compete.
By the early 1980s, drivers from the traditional USAC developmental ladder of Midgets to Sprints to Indy Cars were being replaced by drivers from Europe and South America who had honed their skills exclusively in mid-engined race cars. In just a decade or two the field of the Indianapolis 500 had gone from being comprised primarily of drivers born in the US to drivers who were born overseas.
Pundits blamed USAC claiming that the decision to ban mid-engined Midgets and Sprints had, to a degree, been responsible for this outsourcing of talent in America's biggest race. Right or wrong, had the ban not been implemented, US open wheel racing would most certainly look much different today.
The car featured here was built in 1972 by Fred Fusco of Providence, RI and competed primarily in New England. It features an air-cooled VW-based engine and four-wheel independent suspension that appears very similar to the type found on road-racing open wheel race cars of the period. More information about the 1972 Fusco Midget can be found by CLICKING HERE.