Excess is a word that most of the modern world is far from achieving. The majority of regular people would struggle to afford a BMW X5, but this is a problem that the rich and famous don't need to worry about. From a couple hundred grand to a couple mill, there's nothing out of bounds for the wealthy – and they like to prove that by purchasing some of the most extravagant cars on the planet.
McLaren F1 – owned by Rowan Atkinson and Wyclef Jean
Photo by: motoyen
Woking-based McLaren rarely produce road cars, and when they do, they're usually as epic as any road car before it. The company's first effort wasn't too bad. Using technology usually found on Formula 1 cars and with the design taken care of by Gordon Murray, the McLaren became the fastest supercar ever made. It remained so until the early 2000s – which isn't bad for a car released in 1992.
With over 600bhp pumping out from a BMW V12, the F1 was fast on a whole new scary way. It redefined what was physically possible from a motor car, and the celebrities could wait to get their hands on one.
The most famous and mainstream customers were Mr. Bean, Rowan Atkinson, who reportedly still owns his. Atkinson, despite being famous for playing a dim-witted, walking disaster, is actually a massive petrolhead, and he certainly proved it when he purchased the F1.
Next up is ex-Fugees frontman and rapper Wyclef Jean. The Haiti-born rapper is known for his purchases that are both extravagant and expensive, but when he bought the F1, he became not only a money-machine but also a connoisseur.
Ferrari Enzo – 50 Cent
Photo by: Rex Gray

Rappers feature quite a lot in this list, and it's all thanks to their ability to sell millions of records, seduce millions of women and sell out hundreds of venues across the globe. 50 Cent is, along with Jay-Z and Sean 'Puffy' Combs, one of the richest hip-hop artists. His 2003 'Get Rich or Die Tryin' album went diamond and solidified his place in the hip-hop elite. It also meant he could now buy whatever he wanted, when he wanted.
His biggest purchase was Mike Tyson's old house which included its own nightclub with a pole in the middle of it – you can't imagine what for, can you?
50's love for cars is evident from his collection. He owns a Ferrari F40, F50 and F60, and it's the F60 – or Enzo as it is commercially known – that takes the biscuit. When Ferrari released the Enzo, its price tag was around £500,000, now though, if you want one, you're talking at least £1m.
Bugatti Veyron – Jenson Button
Photo by: ppmfl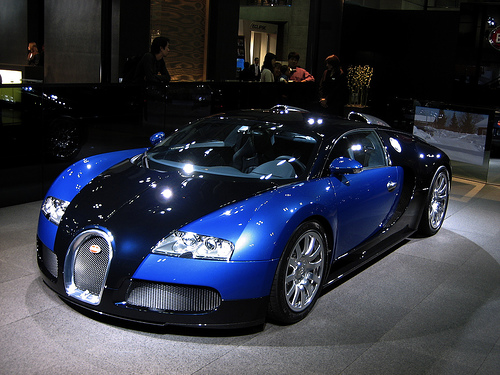 The 2009 Formula 1 world champion, Jenson Button, knows his cars. That may seem an obvious comment to make, but you'd be surprised how many F1 drivers don't own supercars for their daily drives – take Michael Schumacher as case in point; the 7-time world champ drives a Fiat 500. Button, around the time of his success with Brawn, owned a £800,000, 253mph Bugatti Veyron. Not a bad choice, right? Well, when you consider that the VW-owned company produced the Veyron at a loss of around £2m per vehicle, it makes you realise how special the Veyron is.
As with most exotic and ultra-rare supercars, the Veyron's price tag has sky rocketed and buyers who paid the relatively low price of £800,000 at launch will be able to make quite a nice return if they sold now.
Porche 959 – Jerry Seinfeld
Photo by: motoyen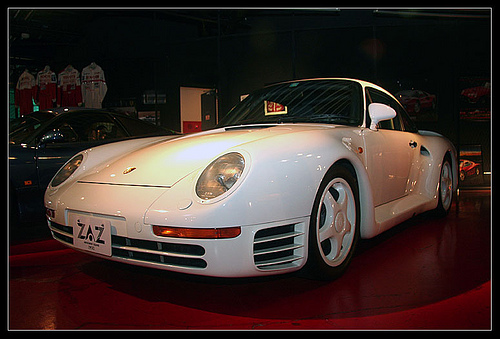 When a comedian buys one of the rarest, exclusive and respected supercars ever made, you know it must be pretty decent. Jerry Seinfeld, famous for his hit sit-com Seinfeld, is not only a very funny chap but also extremely rich. His wealth allowed him to buy a Porsche 959 – one of only 337 ever built –worth $700,000.
According to reports, Seinfeld's estimated worth is around $800m, which in fairness, means he can probably afford such expensive Porsches. It doesn't half make you jealous though, does it?
Maybach – Peter Jones
Photo by: MSVG
Peter Jones is primarily famous for being the tall one of BBC Two's Dragons' Den, but he is so much more than that. When you're worth £400m and you own some of the biggest companies in the world, it's fair to say you've pretty much made it. Jones, however, is actually a proper, full on petrolhead and he likes to display his love for all things motoring by splashing out on the finest cars available.
His Maybach is legendary for a few reasons, some good and some bad. Firstly, he decided to spend £300,000 on a super-limousine but ruin it by painting it beige. Jones, famously, claimed it was actually gold, but he's fooling no-one, and secondly because he's owned it for several years; driving it too and from Dragons' Den filming – or should we say, being driven in?
Sources:
http://wiki.answers.com/Q/How_expensive … zo_Ferrari
http://www.thesupercars.org/fastest-car … p-10-list/
http://www.timesonline.co.uk/tol/drivin … 578393.ece
http://hobby-corner.net/blog/jerry-sein … e-959.html
http://autos.yahoo.com/articles/autos_c … st-500000/

This is a guest post on behalf of Netcars – the specialist used car search engine based in the UK