Round 1 – American muscle cars – Chevrolet SS vs 300 SRT
We take 2 American muscle sedans out on the track to see which best satisfies the need for speed.
Chevrolet is back in the American muscle car game with the new SS, although we have Australia to thank for this big brawny sedan. Like the recently deceased Pontiac G8, the SS is made down under by GM's Holden subsidiary. And like the G8, the SS follows a fairly simple muscle car formula: take a big V8 engine (in this case the 415 horsepower LS3 6.2-liter V8) and stuff it in a large sedan, tweak the suspension a bit, and throw on some big tires. Smiles are sure to result.
Unfortunately for Chevy, SRT has practically perfected this formula over the past few years with its Charger SRT and 300 SRT sedans. Both feature a 470 horsepower 6.4-liter HEMI V8 and plenty of attitude. On hand for our test was a menacing red 300 SRT that looked every bit the business.
After a few laps around Mazda Raceway Laguna Seca, several things became clear: neither of these cars are the best tool for lapping a racetrack, but both are a ton of fun. Although the 300 SRT would appear to have the edge in terms of power, the SS is several hundred pounds lighter, negating the hp advantage. Burying the throttle in either car results in a surge of forward thrust and the glorious exhaust note that only a large V8 engine can bring.
Both cars struggle to remain composed around the track's few tight corners, but the SS feels more buttoned down and is easier to place where you want it. The 300 SRT has plenty of grip, but it just feels a bit floaty and awkward, especially around the infamous corkscrew. We also appreciate the 6-speed automatic in the SS over the 5-speed in the 300 SRT, especially as it downshifts smartly while you're hard on the brakes.
In the end, it's a close battle, but the SS emerges as the overall winner. A surprisingly luxurious interior and a base price that starts $2k lower seals the deal. About the only reservation we have is the exterior styling, which seems a bit bland and definitely doesn't scream American muscle quite like the SRT.
---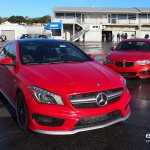 Round 2: German Coupes do Battle at Mazda Raceway – Mercedes-Benz CLA 45 vs. BMW M235i