As a part of the Toyota Long Beach Grand Prix each year, they run a celebrity race, with the prize money going to charity. There's a celebrity group of over a dozen drivers, and then there's a smaller pro class for people that have racing experience. Last year, I ran in the celebrity group and won, so this year, I got bumped up to the pro class.
A lot of people don't understand what the race is all about. They think it's some kind of NASCAR ride-along or extended parade lap, but it's not. It's a real race that we drive. We do four days of intensive training out at Willow Springs, then practice on the actual Long Beach Grand Prix track. We do qualifying, walk the track — everything that the pros do.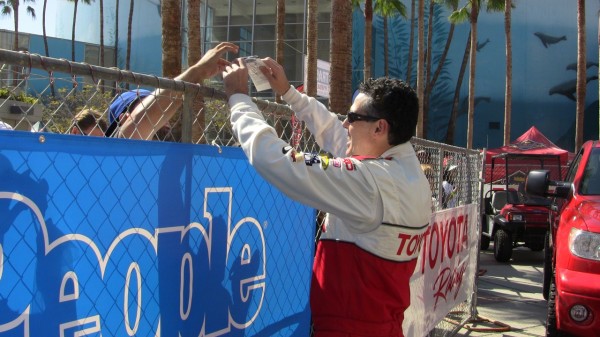 All you really need to know is that there are 50,000 people in the grandstands. When you're participating in something with 50,000 people watching, it'll get competitive quickly. In previous years, cars have flipped and even caught on fire.
The other pros I was running against were pretty serious. Andy Bell is a supercross guy from the show Nitro Circus. Between his supercross experience and the fact that he holds the world's record for longest front wheelie, I figured Andy to be a hard-charger and at least half crazy. Melanie Troxel is an NHRA top fuel drag racer that has gone 332 mph. (If you round down to 330, she'll correct you.) That's a quarter of a mile in 4.45 seconds. I wasn't sure her speed on the drag strip would directly translate into road racing, though. Then there's Tyler Clary, the Olympic gold medal swimmer. After the 2016 Olympics, he wants to become a full-time race driver. He's been through the Skip Barber Indy Car Academy and he had the fastest qualifying time out of the four of us. This kid is an intense competitor. He was fast, super-focused and consistent throughout practice. Tyler was the one to beat.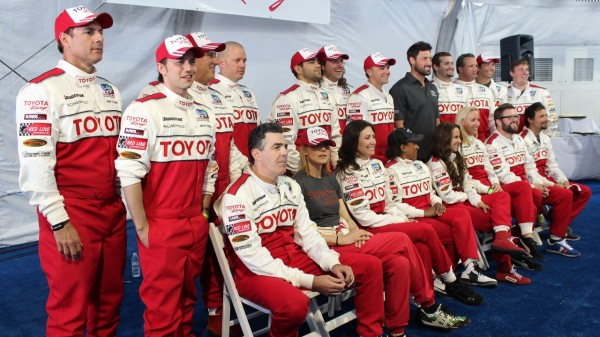 At the drivers' meeting, I reminded the celebrities that they weren't racing against us pros. (The celebrities are started 30 seconds ahead of the pros.) I told them if they saw a pro coming up on them, they should get out of the way.
Then we pro drivers had our own meeting. I said we should to try to jump the green flag to close the gap between us and the celebrities. There's a lot of straightaway before the start line. I said that once we all get around the hairpin, we should stack up real quickly and just take off all together.
Smash cut to the beginning of the race. Just as I'm entering the hairpin before the green flag, my seat falls back two notches — for no reason. And that made my harness all loose. Great. My harness is one of the few things I'm super-particular about and it's all shot to hell before the race even starts.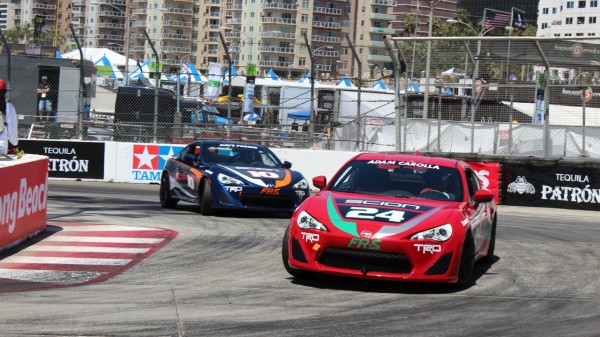 Then, as I come out of the hairpin, I see that Tyler has already taken off down the straightaway. He's just gone. So much for our pact to all bunch up and jump the green together. And then, to make it a completely perfect start, as I'm trying to fix my seat, Melanie slips in front of me. There is nobody in my rear view — I'm dead last.
My original plan had been to tuck in behind Tyler and Andy. I'd just hold my line and wait for Andy to do something crazy. Hopefully he'd tangle up with Tyler and then I'd make my move past the both of them. But now I was stuck behind Melanie — still trying to adjust my seat while driving.
We came up on Wanda Sykes pretty quickly, which is surprising since she got a head start with the other celebrities. (She gave that lead up about halfway through the first lap.) Luckily, Melanie got a little hung up behind Wanda and I was able to pass them both.
I finally weaved through enough celebrities to catch and pass Tyler. Sure, I'd told all of the celebrities to give us pros the right of way. But truth be told, once they were behind me but ahead of Tyler, the celebs could drive as dumb and slow as they wanted as far as I was concerned.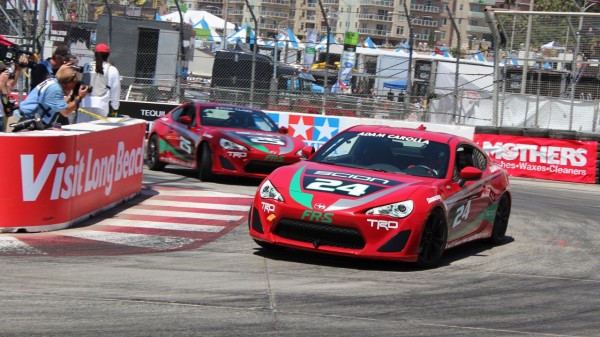 I worked my way up to Andy Bell. He was having a hard time getting around Jeremy Sisto. We both got past Sisto at the beginning of the back straightaway.
The proper racing line is to stay left and hug the wall before the turn. Andy was close to the line and I was stuck inside. He could have torn down that straightaway and had a better line going into the turn.
But instead of taking the line, he went really far out of his way to swing inside and block me. I think he was just screwing around and having fun. I could see him watching me in his rear view and making some kind of gestures at me. But we were running out of straightaway really fast and I didn't know what his plan was.
With about a half a second of straightaway left, I think Andy finally stopped looking in his rear view long enough to see how far off the line he was. He swung back outside to try to get on the line and I was stuck inside.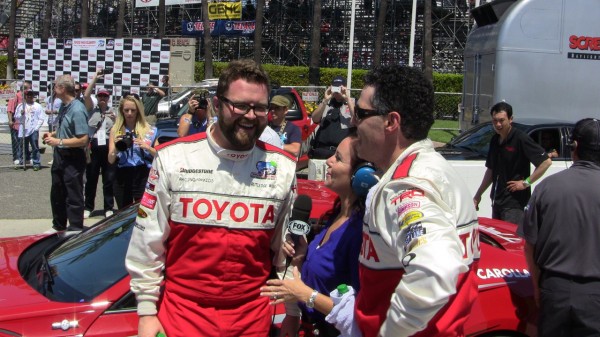 Tanner Foust had given me a tip last year. He said the drift car exhibition leaves a lot of rubber on the ground in that corner, so there's more grip on the inside during the race than there is in practice. That was good news, because I was going inside no matter what.
I didn't see what happened and I don't remember what happened. I just heard a "crunch" and knew I wouldn't have to worry about catching Andy. Turns out that he had swung too wide and went into the tires. (He laughed about the whole thing later.)
It finally sank in. Oh, my God, I'm in first place. What the hell am I doing in first place? But Tyler was still behind me. Like I said, Tyler was fast and consistent and I knew he'd keep trying to reel me in unless a celebrity messed him up. I just kept trying to put celebrities between us and drive smooth, hoping that he'd overdrive his car. I've to give him credit. He closed the gap and got close to me at the hairpin in the final lap, but not enough to overtake me.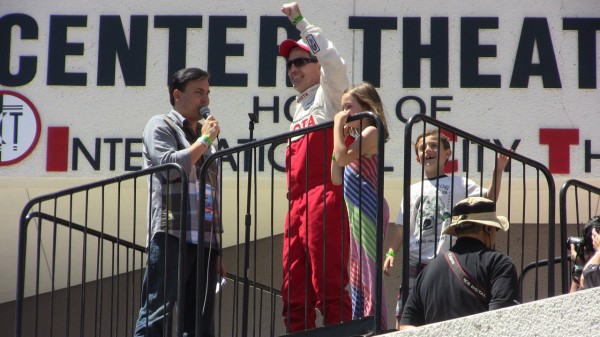 I had started so far behind and with my seat all messed up. But I won. I couldn't believe I won the pro division. The best feeling you can ever have in life is coming down the back straightaway before the paddock. It's the exact opposite feeling of getting a participation trophy. Participation trophies are supposed to make everyone feel like a winner, yet nobody winds up feeling like a winner. But when you come up to the paddock, the guy with the headset is pointing, telling all the drivers to turn into the staging area. Then he sees you coming. He points to you and says keep going to victory lane. That makes you feel like a winner.
Race video:

---
Hear more from Adam Carolla by subscribing to CarCast on iTunes or visit CarCastShow.com