In some of my previous blog posts, I've mentioned the Jaguar that I use as my daily driver, so I figured it was time to give that car some much-deserved love. It's a 2013 XFR in a really dark British racing green, with lots of metal flake in it. Thanks to the fine folks at Jaguar, I got my hands on the first one available in the U.S. back in October. It was so new when I got it that it didn't even have a window sticker, because the EPA numbers hadn't even been worked out yet.
The XF line's been refreshed once again. And Ian Callum and his team have nailed a perfect balance with their design work. Jaguar's had kind of a love/hate relationship with their grilles in the past. Sometimes they got so small they didn't look like a Jaguar anymore. Other times they got so big and bulbous that they looked like they an aging Hollywood starlet with one too many collagen injections. This year, they got it right. The grille looks classy, but it's also aggressive somehow. The same is true for the overall coachwork.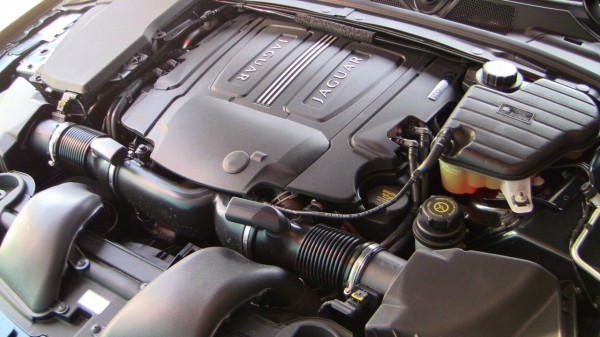 While other car companies are embracing turbocharging, Jaguar is doubling down on supercharging. The XFR's engine is a supercharged V8 that makes 510 horsepower and 470 ft-lbs. of torque. All of that torque comes in handy, since, at almost 5,300 lbs. gross weight, there's a lot of metal to move here. And this engine will chirp the rear wheels when you get on it, doing 0-60 in 4.5 seconds. The XFR stops well, too. The front rotors are almost 15 inches and the suspension is dynamic.
They've got a vented hood on the supercharged version and I'm happy to say all of the vents are functional. The motor isn't completely hidden, not that anybody that owns this car will be adjusting the valves. And truth be told, there's nothing to upgrade. It's completely turn-key. There's no reason that you would bother adding a pulley, swapping out a chip or changing the setup on the air intake.
It's sporty, but not in your face sporty. It's got a little diffuser in the back down low and a little bit of a tail on the back. And it's not overly-badged, like, "Hey everybody look at me, I've got a supercharger."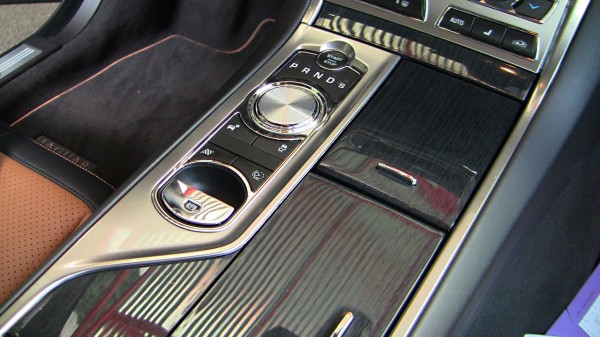 There aren't a whole lot of options available for this model, because it comes pretty well loaded. The "base" model XFR starts at around $83,000. The version I have is about $85,000.
If there's one thing Jaguar knows, it's how to design a beautiful interior. And the new XFR plays to that strength. Mine is decked out in two-tone leather, a green and tan with sort of a baseball mitt look to it. I already own the '99 version of this car (also in green). The '99 was as fancy as they came back in the day. There's nothing wrong with that interior, but the 2013 version is so luxurious that it almost makes my '99 feel crude by comparison, which I didn't think was possible.
The shifter is flush in the center console. When you start the car, it pops up. When you turn on the air, the air vents spin around and spring to life. Do you need that sort of thing? No, but it's a really nice little extra that makes the car that much more elegant. All of the instruments and gadgets are intuitive. They're all where you expect them to be. Interior and trunk space is really generous.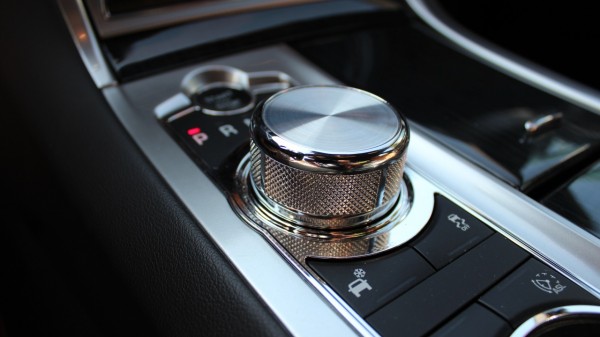 For the person who's looking at getting an M5 or a Mercedes E63, but wants something with a little more personality than a German car, this is a good choice. German cars are great, but sometimes they're a little too "all business." In a sea of BMWs or Audis, the XFR really stands out.
You'd really be hard-pressed to find this much speed and this much comfort in any other car. The Jag has become a straight up European supercar in its own right. It looks like it belongs at the country club as much as the race track.
This is about as drive it everyday as 510hp gets. Everything works, everything looks good, everything hauls ass. Thanks a ton to Jaguar for getting me this car. It's a dream come true.
---
Hear more from Adam Carolla by subscribing to CarCast on iTunes or visit CarCastShow.com