It's wonderful, and sad, to see the Think City electric car show up on eBay. I had a blast driving the Think City for a week last summer for a review in the New York Times. The funky small EV — a full two feet longer than a Smart car — has body panels made of scratch-resistant plastic. That's unique, but it's the peppy drive from a 37-kilowatt motor that makes it so much fun.
At the time, I wrote: "The virtues of an electric car — swift, smooth and mostly silent operation — felt amplified relative to the expectation that the pint-size City would be underpowered. Heads turned on city streets and shook in surprise as it quickly bolted to 40 mph when the light turned green or zoomed to 70 mph, its top speed, on the highway."
The problem with the small Think was its large price tag — about $37,000, prior to any incentives. The car is a city commuter only, and with limited two-seat functionality, basic amenities, and a driving range around 70 miles per charge, the company never really had a chance in the US market.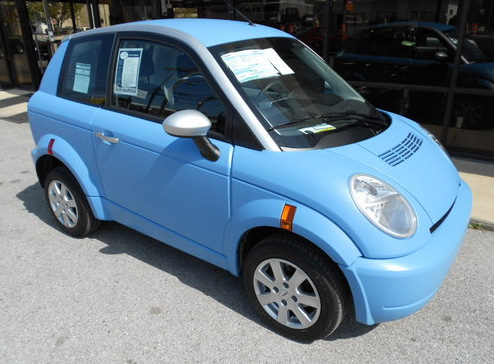 Formerly owned by Ford, Norway-based Think suffered a series of four near-death bankruptcy experiences over the past couple of decades—each time emerging from the brink of annihilation. About 500 units of the fun and funky highway-capable plastic-bodied two-seater were shipped to the United States in early 2011—with the idea of setting up production in Indiana. By the end of year, the company appeared down for the count. (Who knows? Maybe this cat has nine lives, and will come back for a fifth time.)
Think's demise is sad, because the City is such a delightful urban electric runabout. But their business problems could be your opportunity, as two of those Thinks—this one in Maryland and this one in Illinois—are being be sold at eBay for a fraction of last year's price. The seller in Maryland says it bought all remaining unsold units "before new 2013 models show up next year," allowing for volume discount pricing. (There's no guarantee that more will be produced next year.)
Keep in mind that new vehicles powered by large battery packs qualify for a $7,500 federal tax credit. That could put the net price of the Think City below $20,000—which feels like just the right number for the zippy plastic and surprisingly roomy EV.
For more information about electric cars, visit eBay's Green Driving Center.