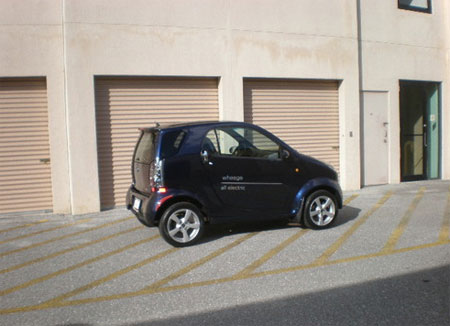 There are plenty of ways to get from point A to point B. So depending upon how far away point B is—and what kind of roads you'll be traveling on—you may not need a highway-capable vehicle to get there. Neighborhood Electric Vehicles (NEV), sometimes also known as Low Speed Vehicles (LSV), can be a good fit for people who do a lot of their driving on local roads.
The diminutive Wheego Whip LSV is a perfect vehicle for such operations. Coming in at slightly less than 10 feet long, the electric-powered Whip LSV has a top speed of 35 mph and a range of about 40 miles. The plug-in is not to be confused with the small carmaker's most recent offering, the virtually identical-looking Wheego LiFe, which is capable of traveling on highways and sports a lithium iron phosphate battery pack with a range of 100 miles.
This Wheego Whip comes from a private owner in West Palm Beach and could be a big bargain for a bidder with a need for a good neighborhood vehicle—and a desire to drive using cheap domestic electricity as fuel. With just 400 miles on its odometer and barely any visible evidence of previous ownership, this Whip looks almost as good as new. What's more―and likely of particular importance to Florida drivers―this vehicle comes complete with air conditioning and power windows, both of which are optional on the Whip.
Wheego sells the Whip LSV for just under $20,000 including delivery costs, so even the "Buy it Now" price of $13,000 for this listing represents a major discount for a vehicle with very little physical depreciation. Currently, the bidding price for this 2010 Wheego Whip sits at just $2,500 with four days left on the auction, meaning an even bigger discount might be available for one lucky bidder.