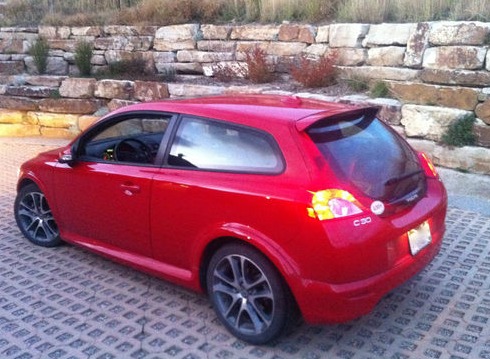 Several years ago, a Boulder-based vehicle conversion company embarked on a project to convert and sell a number of Volvo C30 hatchbacks to run only on electricity. When the economic downturn hit, the C30 electric conversion enterprise was abandoned, after the completion of the first and only prototype—now up for sale on eBay.
The Volvo C30 is a great small platform for an electric car. The gas-powered C30 boasts the same world-renowned safety that Volvo has become famous for over the years but in a decidedly smaller, less boxy frame. Since its introduction in 2007, critics have loved the C30's youthful styling. The carmaker is in the middle of a pilot program to test its own electric version of the C30 in select North American markets. I had a chance to drive Volvo's prototype of the C30 Electric in 2010—and thoroughly enjoyed the ride. At the time, Lennart Stegland, president of Volvo Special Vehicles, told me that the focus of the pilot program is to bring Volvo's high level of safety to the electric car market.
Unfortunately, Volvo priced participation in its test program at $2,100 per month—a prohibitive price for all but the wealthiest, most enthusiastic electric car lovers. If you're not among that select group but still want to experience the pleasures of owning a gas-free electric vehicle with Volvo badge, you may be in luck.
The converted model listed on eBay has heated leather seats, a sun roof, and Dolby Surround Sound stereo. It's capable of driving at highway speeds and offers range of about 93 miles, by virtues of a 29 kilowatt-hour Thundersky lithium ion battery pack. The Boulder conversion company spent $73,000 making this vehicle electric, but it can be yours—with just 5,400 miles on its odometer—for a "Buy it Now" cost of $32,000. The auction price could be significantly lower. Of course, a conversion won't have the full degree of safety and durability as a Volvo-built EV. Regardless, this 2008 Volvo C30 Electric car could go for significantly less than the cheapest mass-produced electrics on the market.
For more information about electric cars, visit eBay's Green Driving Center.