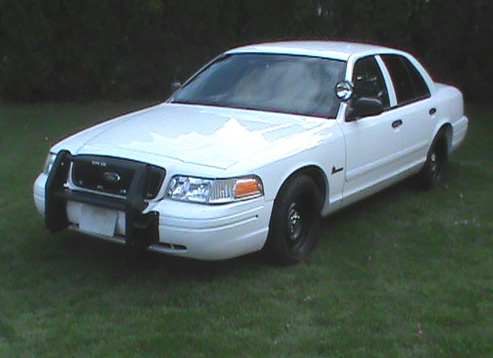 This is one tough green car. Until 2010, it was used as a police detective car in Phoenix, Arizona. Complete with ramming bar and a "K9 Interceptor" badge, the seller says this full-size V8 full-frame rear-wheel-drive four-door sedan is built for "severe duty." The seller promises that while cruising down the highway, you will watch "the left lane open up like the Red Sea did for Moses." And this "immaculate" 2001 Crown Victoria is likely to thwart any potential trespassers when you have it parked in front of your house.
What makes it green? Like a growing number of municipal vehicles, it runs on compressed natural gas. CNG burns very clean, producing fewer tailpipe emissions than a conventional gas or diesel vehicle. The CNG-burning version of the Honda Civic has been named the greenest car in the U.S. by the American Council for an Energy Efficient Economy for about a dozen straight years. And it won the Green Car of the Year award at the 2012 Los Angeles Auto Show.
Given the eco-friendly characteristics of CNG, vehicles that use compressed natural gas are granted access to carpool lanes in many states, even when the driver is piloting the car solo.
You won't have any problems locating a CNG refueling station for this Crown Vic, because it comes with a Fuel Maker FM4 3000 PSI Natural Gas Compressor. No more trips to the gas station, because you can fuel up right from home (assuming you have a gas line in your house). As the national average for a gallon of gasoline creeps toward $4, you'll be paying the equivalent of about a $1 a gallon. The seller says this car costs about 5 cents per mile to operate, while the Toyota Prius—the country's highest-MPG vehicle without a plug—costs twice as much to run.
This Ford ex-cop car did its duty protecting domestic security, and now can play a role in supporting global energy security. As the seller notes, you'll have "the peace of mind knowing that you are using 100% American made fuel and not transferring your hard-earned money to…foreign countries who wish to harm us." That noble function, and its authoritative presence, will earn you respect from any law-abiding energy patriot and "friendly waves from every police officer that crosses your path. Get all the details about this CNG-powered 2001 Ford Crown Victoria.
For more information about compressed natural gas cars, visit eBay's Green Driving Center.