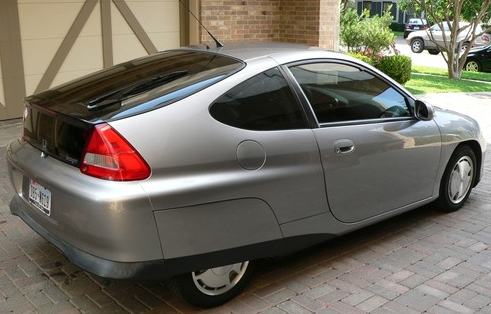 Despite what many think, the Toyota Prius isn't the first or even most fuel-efficient hybrid to hit the American market. Those distinctions belong to the Honda Insight, which was released in December 1999, boasting a combined 53-mpg in fuel economy. Early-model Insights can be expected to get 49 mpg in the city according to the EPA, and a whopping 61-mpg on the highway. This 2000 five-speed manual Honda Insight on eBay is a wonderful specimen—with a little more than 24,000 miles of use. The seller says that it's been "gently and rarely driven" and is "probably the lowest mileage first-generation Insight on the planet."
With the discontinuation of the original Honda Insight in 2006, the first-generation two-seater maintains a futuristic teardrop profile that's unique on U.S. roads. In the 2005 movie Be Cool, John Travolta's character called the Insight "the Cadillac of hybrids."
Honda discontinued the first generation Insight, in an attempt to retool what had been a three-door hatchback to match the Prius's five-seat, five-door configuration–and its 50-mpg fuel economy. Unfortunately, with greater size and weight (and downgrade in aerodynamics) came significantly lower fuel economy. The redesigned, current generation of Insight is capable of a still impressive 41-mpg combined. But since 2006, there hasn't been a non-electric vehicle capable of touching the original Insight regarding fuel parsimony. (The new Toyota Prius C comes closest with a city mileage rating of 53 mpg.)
The 2000 Insight in this listing was part of the very first model year in the car's production. The car's odometer reads just 24,409 miles and though hybrid batteries generally lose a portion of their storage capacities over the years, this Insight had its battery replaced just last year. That means its fuel economy can be expected to reach or surpass the car's original performance.
Though its two-seat configuration limits the use of this 2000 Honda Insight as a family vehicle, its superior fuel economy makes it perhaps the most efficient and coolest-looking small commuter cars ever to hit the U.S. market.
For more information about hybrid cars, visit eBay's Green Driving Center.