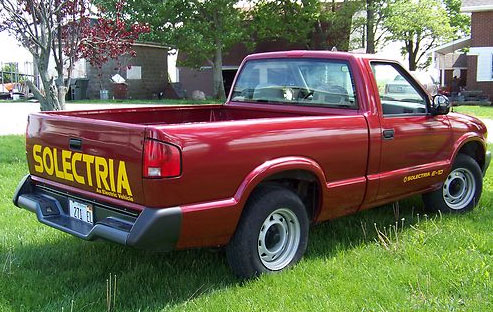 The all-electric 1995 Solectria S-10 up for sale on eBay is in mint condition. The high-utility pick-up segment has so far been completely overlooked by automakers offering EVs these days, so this Solectria might be your only chance to do hauling and other real work without burning any petroleum.
The Solectria S-10 electric pick-up truck stands as one of the most intriguing vehicles in EV history. In 1994, a pioneering Massachusetts-based electric vehicle conversion company called Solectria began marketing conversions of Chevy S-10 pickup trucks. Founded in 1989 by husband and wife team James and Anita Worden, Solectria would build and sell more than 4,000 vehicles before being acquired by Azure Dynamics in 2005.
Perhaps inspired by Solectria, General Motors later placed an electric drivetrain into the S-10 itself, marketing nearly 500 units of the car as the "S-10 EV" in 1997, primarily for sale or lease to government and utility fleets. According to some reports, the list price was around $33,000.
The configuration of the GM-built S-10 electric was arguably not as good as the Solectria S-10 conversion. First, the GM-built S-10 included an almost identical drivetrain to the carmaker's legendarily ill-fated EV—meaning the GM pickup is driven by its front-wheels. On the other hand, the Solectria conversion is a rear-wheel driven vehicle.
Another advantage to the Solectria S-10 is its battery pack, which is comprised of 36 easy-to-find and relatively inexpensive lead-acid batteries—compared to the challenge of finding batteries for GM's S-10. This Solectria had its pack replaced two-and-a-half years ago. (Note: There's even a Solectria AC system available now in eBay Motors parts and accessories section.)
Finally, the range of the GM S-10 Electric was about 50 miles. Range for the Solectria S-10 varies greatly depending on how it's driven, but the seller says it's typically driven about 30 miles while maintaining roughly half its battery state-of-charge—putting its range on a single charge closer to 60 miles. Top operating speed is close to 70 mph.
There will be about 10 more new all-electric models coming to the U.S. market in the next year—but not a single one will be a pick-up truck. That makes the Solectria S-10 in this eBay listing a unique find—with the added bonus of being in great condition and showing just 13,500 miles on its odometer.
For more information about fuel efficient cars, visit eBay's Green Driving Center.