Before Emmitt Smith became Lincoln Motor Company's brand ambassador, he purchased a 1991 Mercedes-Benz 300SL hard top convertible to celebrate signing on with the Dallas Cowboys. We are all familiar with Smith's illustrious football career – three Super Bowl championships, NFL's all-time leading rusher with 18,355 yards in 15 seasons, the only player to have won a Super Bowl MVP, NFL MVP, and NFL Rushing Crown in the same season, and inducted into the Pro Football Hall of Fame in 2010. But what became of that historic convertible that was purchased proudly during Smith's rookie year with the Cowboys?
Well, it eventually came into the hands of Richard Rawlings, owner of Gas Monkey Garage and host of Fast N' Loud on the Discovery Channel. We spoke with Richard over the weekend and admittedly, the Mercedes has seen better days. The interior needs some attention and it has a few cosmetic flaws. With the speedometer stopped at 182,148 miles the true mileage isn't known. Plus the tachometer and fuel gauge are not working.
Included in the sale is a plaque engraved with Emmitt Smith's name and attached to the original center glovebox cover.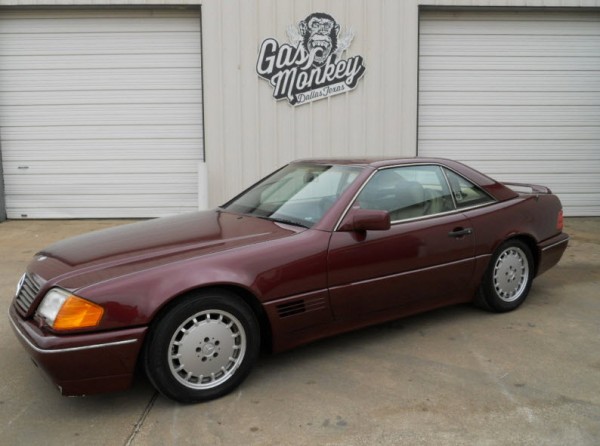 Overall, the 300SL is in good condition and it runs solid as a German Leopard tank. As an added bonus, the winning bidder has the option of appearing on Fast N' Loud when he or she takes delivery of the car. Even after leaving Smith's hands, the car continues to be in the spotlight.
Click the link to view the full listing before it ends (Feb 12, 201315:25:17 PST) and interested parties should not be shy about contacting Richard with questions about the car: 1991 Mercedes-Benz 300SL Emmitt Smith's Rookie Ride!