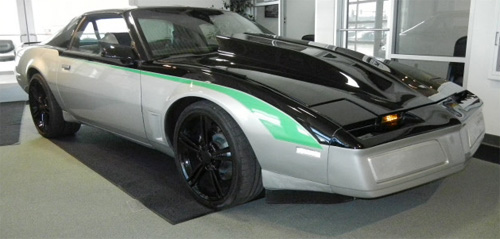 In 1982, Pontiac retooled the third generation of its classic Firebird line to provide better fuel economy in the face of rising gas prices. Where previous generations of Firebirds had been heavy, high-performance muscle cars, the 1982 models shed enough weight to significantly improve gas efficiency while marginally improving acceleration over older models. One four-cylinder variant was even able to get 34 miles per gallon of gasoline.
What makes this restored and completely rebuilt 1982 Pontiac Firebird Trans Am isn't that it gets great fuel economy. To the contrary, with its 8-cylinder, 450-horsepower engine, it uses more than its fair share of energy—but at the same time it runs on almost no gasoline at all. How can that be? It's because this custom beauty runs on an 85-percent blend of farm-produced ethanol and only 15-percent petroleum. (In fact, the seller says that this car not only accepts, but requires E85 ethanol to run. If that were true—which would be very surprising—it would make this Firebird a rather inflexible flex-fuel vehicle.)
Still, if you've got a taste for unique custom classics and a distaste for using imported oil, this 1982 Pontiac Firebird is definitely worth a look. Sporting a silver body, black hood and flaring green side stripe, the car also includes custom wheels and a custom sound system. It's a perfect vehicle for collectors looking to beef up the alternative-fueled sports car corner of their garages.
Since the listing comes from Minnesota—which has the highest concentration of filling stations offering E85—in-state buyers shouldn't have to worry much about finding places close by to fill up. Out-of-state bidders beware: you may want to review local E85 fueling locations listed by the Energy Department.
For more information about E85 cars, visit eBay's Green Driving Center.