Hot Rod and classic Volkswagen Beetle's are not usually something that go together. True, they both originated out of working class vehicles, but the use of a classic VW Bug to be made into a Hot Rod is a bit unorthodox.
However, original VW Beetles do indeed make interesting hot rods. Today we're not going to address a relatively new style of Volkswagen customization, the "Volks-Rod." Volks-Rods are built from a standard classic 1950-1976 VW Beetle, lowered substantially as in a traditional hot rod, with its fenders removed, but retaining its headlights and tail lights to make it street legal. Your own variety of Kustom touches can be added depending on the style you seek. Some of these Beetles have Ford front axles in place of their original torsion bar suspension setup. Others even have wire wheels. Some Volks-Rods are painted flat black cars with red wheels and whitewall tires. Flames are also common, as are bare steel cars.
The Volks-Rod evokes the style and flavor of the 1930's-1950's American hot rod, using a VW Bug base instead of say a Ford Model T, or Model A, or another type of American based model. The best Volks-Rods, are often the ones that showcase an owner's welding torch talent. Some are chopped and channeled in places to lower the ride height and roofline. Few classic car "aficionados" would dare to say that a classic Volkswagen Bug has flowing lines that rival the best of the 1930's Coachwork. Some would also say you couldn't compare a hot rod or a Volks-Rod and a Duesenberg, because they're miles apart, or apples to oranges. But done correctly a hot rod, or even a Volks- Rod, has an appeal all its own. Beetles do have flowing lines, are curvaceous in just the right places and are readily adaptable which is why we decided to feature this car as a testament to what can be achieved with creativity, ingenuity, and hard work.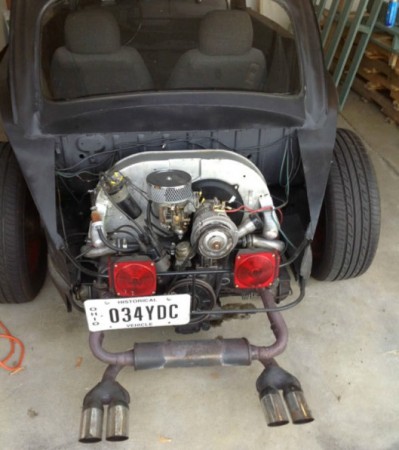 This specific heavily modified 1971 Volks-Rod features front disc brakes and a lowered front end, a 1600cc engine, and a 5-inch chopped roof. The front trunk area has also been modified to be flush with the trunk lid. The fenders have been removed, and the rear engine cover has been ditched to leave the engine on display.
The glass has been removed from the doors and sides of the vehicle for a more open-air experience. The car has a flat black paint job with red wheels. The interior for the most part is stripped out with exception of the lower slung grey seats, which are from a Pontiac Sunfire. But, what really won us over is that this car has potential written all over it. If you live in a nicer climate, it could be a daily driver. And if you want to have a Volks-Rod of your own, this car is great way to get started!