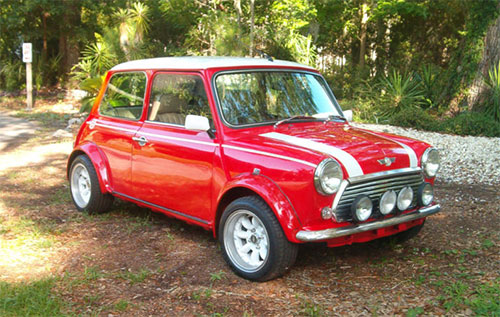 The 2012 Mini Cooper with manual six-speed gearbox gets 29 miles per gallon in the city and 37 on the highway. That's great mileage for a car that provides such a high quotient of fun and styling. Due to car's small profile and light weight, its 121 horsepower provides plenty of oomph. The Mini's legacy of fuel efficiency, sportiness and charm dates back more than a half-century—as evidenced by this gorgeous restored 1969 Mini Cooper on auction at eBay Motors.
This right-hand drive Mini, according to the seller, is in excellent condition and drives extremely well. It has been nearly completely retrofitted to today's standards with anti-lock power brakes, driver's airbag, side impact bars, and alarm that operates from the key fob. The cute-as-a-button car, complete with white leather seats and walnut dashboard, is fitted with deep-dish 13-inch alloy wheels and two front fog lights.
Today's high-tech drivetrains allow cars to maintain size while offering great fuel economy. But when fuel shortages hit Great Britain in 1956—as a result of the Suez Crisis—petrol was rationed. That inspired the British Motor Corporation to produce a desirable miniature car. The Mini was launched in 1959, and would become one of the most influential and iconic car designs of the 20th century.
The Mini's efficiency heritage was extended in 2008, when BMW (which inherited the brand in 1994) used the car as a two-year test platform for its electric vehicle development program. The Mini E—an all-electric version of the Mini Cooper—was capable of more than 100 miles on a charge, and boasted a 0 to 60 mph time of 8.5 seconds with a top speed of 95 miles per hour.
This 1969 Mini Cooper up for auction on eBay is a wonderful opportunity to partake in such a rich heritage of style, driving fun and efficient technology. The car "cruises nicely at 70-85 mph on the interstate," according to the seller, and offers about 45 miles to the gallon.
For more information about fuel efficient cars, visit eBay's Green Driving Center.