Carroll Shelby had a 5 year marriage with Ford between 1964 and 1969 where Ford asked the big Texan to develop a high performance Mustang to challenge the Corvette in SCCA racing. The 1968 Shelby GT500 KR Cobra Jet is the reigning achievement of the collaboration between Shelby and Ford. Found on eBay Motors is one of 318 convertible models that were built in 1968.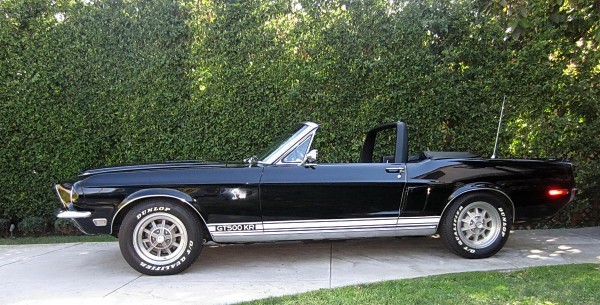 The 1968 Shelby Cobra GT500 KR was a mid-year introduction, based on the 1968 Shelby GT500. When the 428 Cobra Jet engine became available in '68, the GT500 KR replaced the GT500. It put out 400hp although it received a rating of 335hp. The modest rating was meant to deceive the competition and the insurance agencies.
The GT500 KR "King of the Road" carried the same features found on the 1968½ Cobra Jet Mustang. The KRs came with Cobra Jet emblems on the fenders, dash, and gas cap lid. All of them had functional Ram Air which meant for no Cobra oval air cleaner.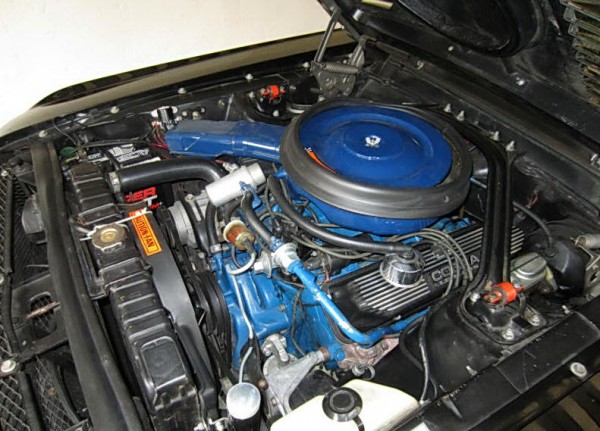 Bigger brakes, front strut tower bracing, and staggered rear shocks help prevent wheel hop and axle wind-up. These were the fastest Shelby production vehicles to date and offered superb handling, braking and most of all, acceleration.
During 1968, 4,451 Shelby Mustangs were produced. 1,253 fastbacks and 404 convertibles made up the GT350 model line. The 1968½ GT500 was available as a fastback or convertible. There were 1,140 GT500 fastbacks and 402 GT500 convertibles produced in 1968. 1968 also saw the production of 933 GT500 KR fastbacks and 318 GT500KR convertibles. Only one GT500 Notchback Prototype was produced.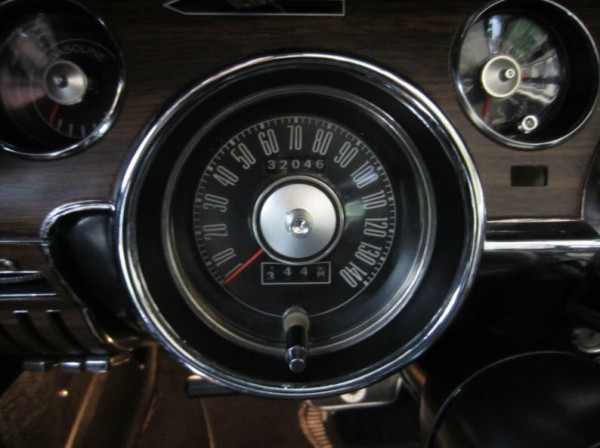 The Raven Black Shelby GT500 KR, being sold by "bighouses" is recognized by the Shelby Club of America and has won a couple of awards, such as "Most Original". True to its California character, the GT500 KR convertible has straps used to secure surfboards to the roll bar.
While the Shelby GT500 KR enjoys its celebrity status, other celebrities were known to covet the infamous "King of the Road". Lee Marvin, James Garner, Paul Newman, Kevin Costner, and Bruce Willis are some of the A-List stars known to have bought and driven a GT500 KR.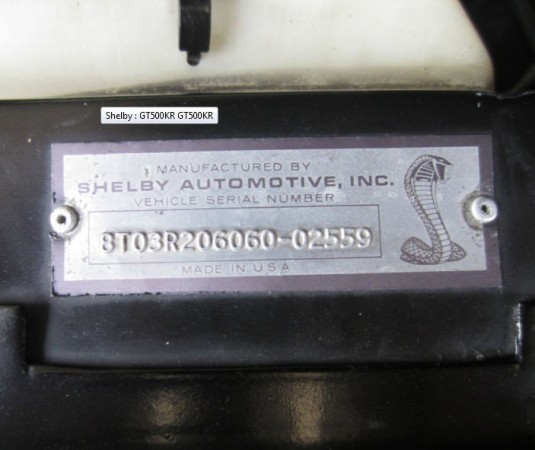 The Collector Car Price Tracker found six 1968 Ford Mustang Shelby GT500 KR fastbacks and convertibles sold between 2005 and 2012 with an average price of $121,550.
Total number of 1968 Shelby Mustangs built = 4451
GT500KR convertibles = 318 produced (car #2559)
Original MSRP $4594.09
Power disc brakes = $64.77
Power steering = $84.47
Shoulder harness = $50.76
AM radio = $57.79
Select-O-Matic transmission = $50.08
Tinted glass = $30.25
Tilt-away steering wheel = $62.18
White convertible top, Raven Black exterior color, black interior
428 Cobra Jet V8 engine, output = 400hp (rated @ 335hp)
Mileage = 32,040
Deciphering the Shelby VIN [8T03R206060-02559]
8 = 1968
T = Metuchen assembly plant
03 = convertible
R engine code = 428CJ-R
Shelby production number = 02559
Click the link to watch or bid on this rare Mustang convertible: 1968 Shelby Cobra GT500KR