"Fi-rarri?" What might that be? No, it is not a sort of kit car – it is a possible nickname for the V6 powered Fiat and Ferrari collaborations known as the Dino series of automobiles. The Italian duo had the intention of collaborating to build a sports car to homologate engines for racing purposes. Essentially Ferrari wanted to be able to utilize a new V6 engine in their racing cars and Fiat had the production capabilities to build the larger quantities of these engines required for Ferrari.
The two Italian companies worked together and built over 500 cars with this engine to allow Ferrari to utilize the engine for its racing purposes. The resulting cars carried the Fiat "Dino" nameplate. "Dino" was the nickname of Enzo Ferrari's son, Alfredo, who collaborated in the mid-1950s with the legendary engineer Vittorio Jano on a lightweight aluminum V6 before his untimely death at age 24.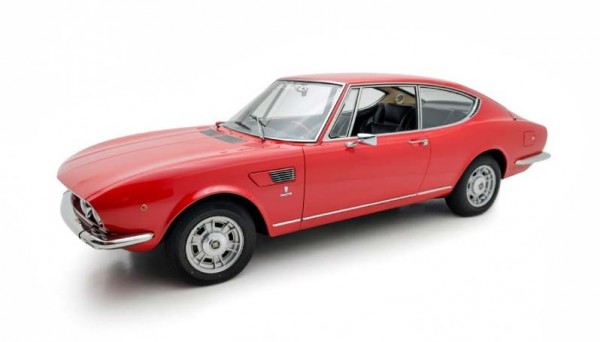 At the 1966 Turin Motor Show Fiat introduced the 2-liter Dino. Bertone designed a smart-looking 2+2 coupe, while Pininfarina designed a curvaceous spider. The coupe features luxuries like power windows, split folding rear seats, and rear window breathers that opened automatically depending on the car's speed. It also featured a wood dash with big gauges and nifty switches, and a supple leather interior.
The massaged, road-going 2.0-liter V6 delivered 160 horsepower and was mated to a Ferrari 5-speed transmission. These cars were praised for their performance, especially as they were essentially Ferraris underneath, but at a fraction of the cost.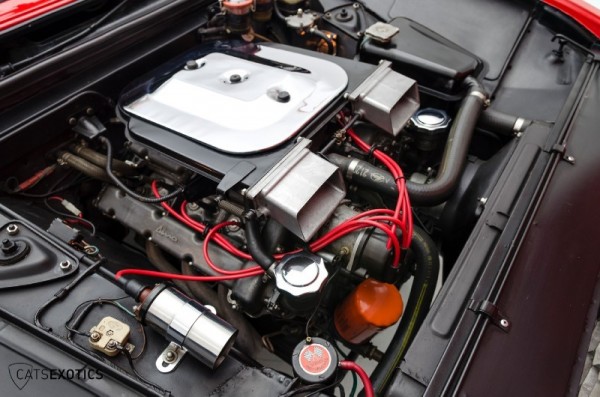 Fiat's Dino production ceased in June 1972 in large part due to a combination of lagging sales and the energy crisis. In all, 7,651 cars were built (3,670 2.0 coupes). Rust has claimed many of these cars, and so today they are rapidly becoming a rare sight.
This 1967 Fiat Dino is finished in red over black interior. Underneath the bonnet of this stunning vehicle is an early 2.0-liter V6 that underwent a full, no-expense-spared restoration completed in late 2008. It sits on R Cromodora alloy wheels wrapped in Pirelli P3000 tires. Highly optioned from the factory it includes full power windows. The interior was re-wrapped in period correct leather and shows well. A full mechanical rebuild took place and has less than 500 miles on it since completion of the total restoration.
While it is often difficult – if not impossible – to predict the future of the collector car industry, cars with ties to Ferrari such as this Fiat Dino are in good company, and according to Hagerty Collector car insurance values have gone up significantly in the last six years. With limited production numbers and a low survival rate, Dinos are often looked at as a Ferrari alternative, and a Fiat Dino with a Ferrari engine is still a rose by any other name.
Buy it now while you still can: 1967 Fiat "Ferrari" Dino Coupe