The Chevrolet Corvair seems like an odd footnote in General Motors history from today's perspective. It's difficult to imagine the company again taking such a huge leap into unusual car design in a world of consumer clinics and PowerPoint-driven business plans.
The Corvair was first introduced in 1960. It was the first and remains the only American-built car with an air-cooled rear-mounted engine, a flat 6-cylinder (predating the Porsche 911). Sales weren't bad. Over 200,000 vehicles were sold in each of the car's first model years, peaking at over 330,000 units. In early years, the Corvair was available in a breathtaking variety of body styles; a sedan, coupe, convertible, station wagon, van, and an interesting pickup truck with a curb-side opening ramp. In 1965 the Corvair's second generation was introduced. Body styles were now limited to a sedan, coupe, and convertible. Not only did it now receive a more streamlined body but the rear suspension was completely redesigned to provide more neutral handling. This had previously received negative publicity… but we won't go into that now.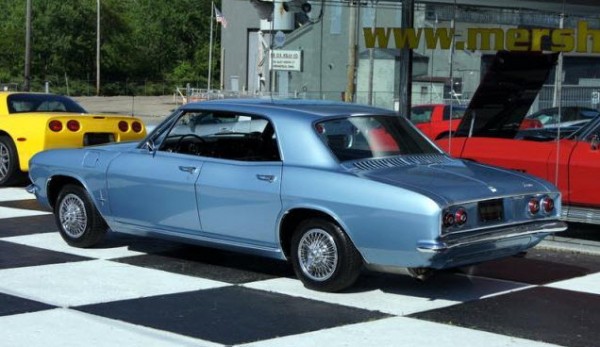 This example is far from the most heart-pounding example. It is a second-generation four-door sedan with the 110 hp Monza engine and a 2-speed Powerglide automatic. Yet, the hardtop pillarless side windows and smooth body are still modern and elegant. Because sedans tend to trail their coupe and convertible variants in collector car values (and the Corvair is no exception) we just rarely see such well preserved examples. They were more likely to suffer the results of daily driver use and lower values meant few were restored.
This car is for sale by mershons [http://myworld.ebay.com/ebaymotors/mershons/?_trksid=p4340.l2559] – an Ohio dealer who usually specializes in Corvettes and has a 100% positive feedback rating on eBay. It has 103,000 miles and the seller claims that the interior is original and un-restored except for newer carpet. The factory air conditioning reportedly works well and it has had one paint repaint at some point in its past. With a Buy It Now of $9,900 it appears to be an affordable and interesting classic for a collector with a family.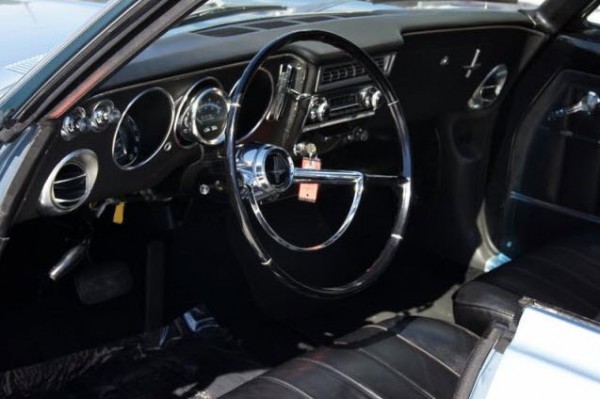 Values for Corvairs have always been quite reasonable with sedans typically worth a fraction of the less common body styles.
The Collector Car Price Tracker values a good 1966 Corvair (of any body style) at $5,159 and an excellent example at $8,648. Though there have been almost no comparable sedan sales of note in the recent past, Values of four doors are estimated to be less than half of these amounts.
Hagerty's Price Guide is a bit more optimistic, placing values of 1966 Corvair Sedans at an average of $5,112 with a high #1 value of $11,100… certainly these provide a lot of interesting design for the money. If this example drives as nicely as it looks one would certainly be hard pressed to recreate it from a lesser example for the difference in value.
View the listing's full description and photo gallery: 1966 Corvair Monza 4-door Hardtop