World War II is often looked back upon as being a war that changed our nation. The automotive industry went from cranking out cars every day for civilians, to cranking out Jeeps, tanks, and planes, and bullets. And when the war ended, the G.I.'s came home with knowledge acquired during the war, and a renewed hunger, desire and passion to get on with their lives.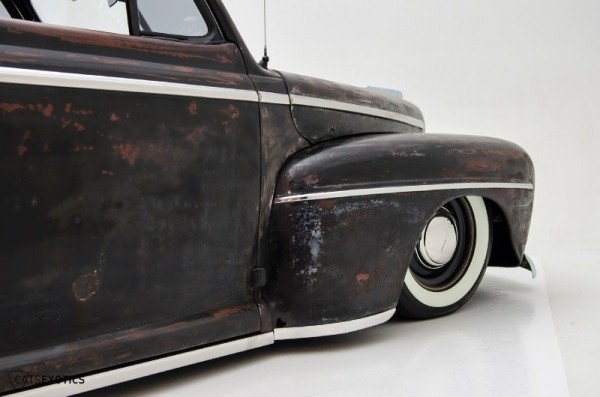 Hot Rodding as we know it today was originally born from civilians stripping down or modifying existing cars into street rods, hot rods, and lead sleds. This was before the advent of Muscle cars in the mid 1960's.
This 1947 Ford is an example of a post WWII hot rod. It is sort of a mixture of a classic Hot Rod and a more modern "Rat Rod" in terms of how the paint might appear at first glance, yet even so you can tell that the current or previous owners cherished the car. A "Rat Rod," for those of you who might not know is a term for a car that might look a bit rusty or forlorn on the outside sometimes on purpose, but mechanically is usually top notch. Sometimes the cars have different engines than stock, and parts from different manufacturers.
The best part about this car is that it is a well-equipped hot-rod, with a relatively modern Chevy 350 engine, and a more modern suspension setup that is adjustable. The paint job has a great patina that is a hard thing to duplicate. Would the original car be worth more money? Possibly, but we can't help but admire the craftsmanship that went into this '47 Ford. It is cool in that classic 1940's-1950's style, but with a modern twist.
Watch or bid on this modern rat rod HERE