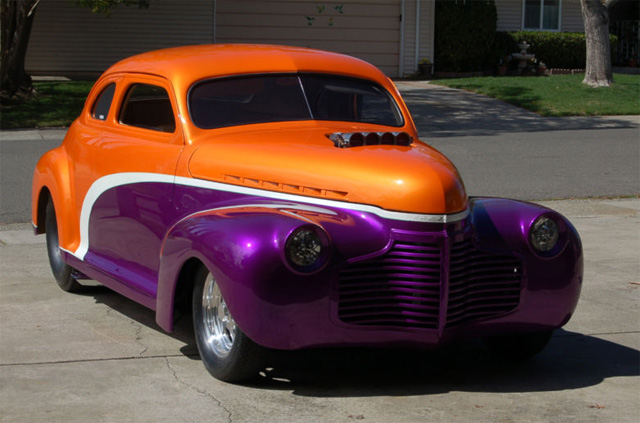 There are two things you should know off the bat about this gorgeous 1941 Chevy hot rod: Its engine packs an astounding 1,000 horsepower, and it runs on E85 ethanol.
This work-of-art on wheels melds the tradition of customizing with "Pro-Mod Street Rod," and features an engine built by a past National Hot Rod Association top "Alcohol Funny Car" champion. Alcohol Funny Car is a drag racing class—officially ordained by the International Hot Rod Association—requiring vehicles to run on a lower-performance mixture of mostly alcohol. For everyday drivers, E85 ethanol is a biofuel alternative that can be used in cars and trucks designated as flex-fuel vehicles.
The term "chopped top" refers to a modding technique in which the cars' pillars and windows are cut down and reattached to lower the roofline—potentially increasing the hot rod's speed, but severely reducing visibility in the process. Sam Barris, the brother of famed auto customizer George Barris (the designer of the Batmobile on the original Batman television series), is credited as being the first roof chopper. There's a similar technique, know as "channeling," for chopping and raising the floor, and another mod known as "sectioning" for reshaping horizontal sections of the car.
The seller of this one-of-a-kind car says it took more than $100,000 to yield the hot rod's amazing power and beauty. You can do a "buy it now" purchase for the bargain price of $65,000. Considering the 1,000 ponies under the hood, it must be nearly impossible to obey speed limits. No problem: this street-legal 1941 Chevy Chopped Top Coupe conveniently features a (not exactly legal) motorized hideaway license plate.
For more information about biofuel cars, visit eBay's Green Driving Center.