Many people love to spend their money on the fastest cars or most luxurious vehicles.  However, a select few enjoy the thrill of finding that classic item that has been hidden away for years. Earlier this month (February 2011) in Stillwater, Oklahoma there was a beautiful 1936 Harley Davidson up for sale. Found hidden away in a barn the Motorcycle is surprisingly in excellent condition.
This is the kind of motorcycle you need to see in person which might be difficult.  Fortunately the seller provided very detailed photos. Having not yet been restored and in it's original charm, this bike is something you would see in the movies or a museum.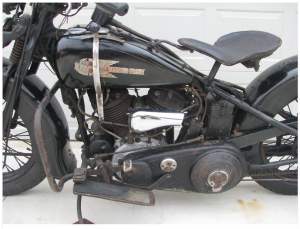 The VIN number is not damaged and can be matched to all parts on the bike. The original paint is black with gold highlights, and the original tires still maintain their tread. Motorcycles like these are not easy to come by! It has a three speed transmission and even comes with an original tool kit (with various wrenches and other tools), wrapped in a leather binding and easily stored on the side of the bike.  The motorcycle has all the 1936 parts, no copies, replacements or replicas. All gauges are readable, and the headlights are intact. With less than 12,500 miles, it is very unlikely you would ever find another bike in this good of condition. Truly this is a piece of American History and even Harley Davidson Inc. would be impressed with a classic like this.
Additional Motorcycle Details
The vehicle was sold by a private seller in Stillwater Oklahoma.
Final Auction Value:  $30,100
Auction end date: February 6th 2011
Bids: 32
Also featured in: Bring a Trailer