While eBay Motors has some great deals, I doubt if they can beat this offer! Would you be interested in buying a 1932 Ford Deuce for only 49¢? Even more incredible, you can buy two different 1932 Ford Deuce's for under a buck! Incredibly, these are brand new, never driven 1932 Fords. No, you don't have to send the money by Western Union; and no the buyer isn't moving to Nigeria next week. In fact this sale is supported, approved and regulated by the United States government.
Regrettably these hot rods are only on paper and sold by the US Postal Service. Bummer.
USPS
The Postal Service is offering two different 1932 Ford "deuces" on postage stamps for sale for the "forever" price of 49¢ each. The two hot rods are a black '32 Ford roadster with flames on the sides or a red '32 Ford coupe. Both feature a stylistic black on yellow license plate featuring the patriotic "USA".
A forever stamp can be used now or as postal prices rise, it can be used "forever" to mail the standard 1ounce envelope. So classic car buffs could load up now and use them for quite a while. They are sold in a booklet of 20 stamps. USPS is also selling a framed poster of the stamps as well as some collectible first day issue envelopes and related media. USPS is expecting some demand for these stamps, as they are printing 100 million stamps.
The hot rod stamps will be officially released on June 6, 2014 in conjunction with the 41st "East Plus" National Street Rod Association meet at York, Pennsylvania.
Hot Rod Artwork
Both illustrations were created digitally. These rods were originally designed by Derry Noyes and then illustrated digitally by John Mattos. Mattos is an acclaimed illustrator based out of San Francisco, California. You may recall that the USPS has released two previous sets of classic muscle car stamps in their collectible series. Here is eBay Motors' coverage from 2013.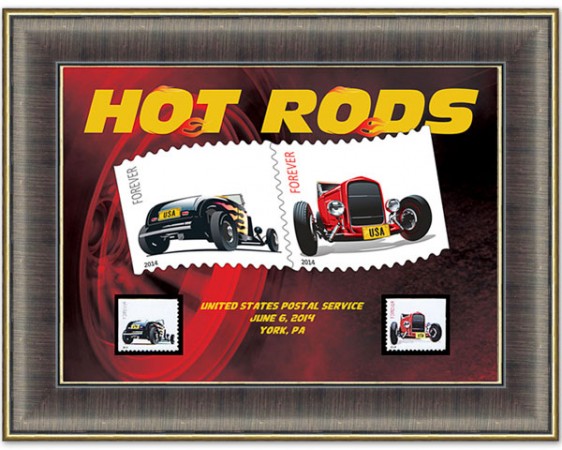 32 Ford Hot Rod
The 32 Ford "deuce" is an iconic vehicle and is a popular vehicle to wrench on both "back in the day" and now. The distinctive grill is an iconic look for the deuce hot rods, and is gracefully highlighted on the red 1932 Ford stamp.
---
| | |
| --- | --- |
| | From overviews of trends in the automotive industry to penetrating looks at car shows, auctions and classic car trends we offer readers a unique perspective with a mix of irreverence and off the wall humor. Check out other articles at Route66PubCo.com. |