VooMote Zapper Universal Remote Control for Apple iPhone With TV Guide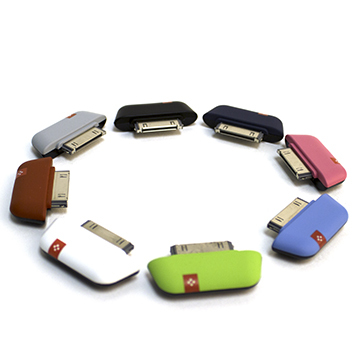 Choose from black, white, green, blue, red, navy, grey, or pink!
Product Description
The VooMote Zapper consolidates all of your remote controls into one universal remote solution giving you control of all of your gadgets and devices in one paper-clip sized controller that easily attaches to your iPhone or iPad. Until the VooMote came along, humanity thought it was doomed to rely on an ever-circling carousel of remotes...at least until we learned to unlock the remaining 80% of our brains. Luckily, we've harnessed the power of this tiny control, compatible with any iOS 5 device! The Setup Wizard makes the initial process smooth and allows your new VooMote to absorb the knowledge of your previous remotes. You can program a personalized set-up for each room in your home and program macros that will allow you to perform a series of functions with just the push of a button. It may still be a while before we can levitate, but the VooMote Zapper Universal Remote Control pretty much takes care of the rest!
Features:

Lightweight and convenient
Paperclip-like size
Switch devices from other rooms
Compatible with any iOS 5 device
Setup Wizard- Set up your VooMote Zapper quickly and easily. Teach-In - Learn in products with the original remote control.
Room Control - Your personalized set up for every room. *One View - OneView combines multiple remotes in one layout.
One Touch - Create an entire chain of commands with a single click. Gestures - Initiate commands with simple finger movement.
Edit Mode - Personalize your remote layouts by editing, copying, pasting or deleting buttons.
Help - The help points out vital functions and gives relevant hints.
Includes:

VooMote Zapper Universal Remote Control
User manual
Payment
We accept all forms of PayPal payment.
Shipping
We ship within 1-2 business days from receipt of payment.
We do ship to APO, FPO, Post Office box addresses.
We do ship to Alaska, Hawaii, and any other US State.
For larger items such as TV's please contact us before bidding regarding shipping to Porto Rico, Guam, Alaska, Virgin Islands, and Hawaii.
We do not ship to international addresses.
We do not change your shipping address by email. Please make sure your address is correct before checking out and making payment.
Return Policy
We offer a 14 day 100% replacement on defective product.
Buyer pays return shipping.
If you have ordered the wrong item or for any reason you are not happy with what you have purchased, you can return it as long as the item is not used and in original condition and packaging.
Make sure to fill out the return form before sending any item back (please click on the "easy return" link below for the form)…
Warranty
1 Year warranty.
If you would like the full text of the warranty please email us by clicking on the "Ask a question" link at the bottom of the listing.
For additional warranty converage please click on the SquareTrade link below. SquareTrade is a third party that provides excellent warranties for many electronics and appliances.

Contact Us
Please feel free to contact us, we are here for you!
We are open Monday through Friday 8:30 am – 4:30 pm Pacific Standard Time. We answer all emails within 48hrs. If you email questions after business hours or on holidays, we will usually answer them the next business day.
We are closed on the weekends and all major holidays.
Our eBay Customer support line: 818.341.7000 Ext: 206
Bid With Confidence
100% satisfaction guaranteed! We at justdeals stand behind our product and our customers. If for any reason you are not completely satisfied please communicate that to us, we will make it right.