RBC4 12V 12Ah SLA Sealed Lead Acid AGM Battery
SKU:

D5775EBALT3

Condition:

New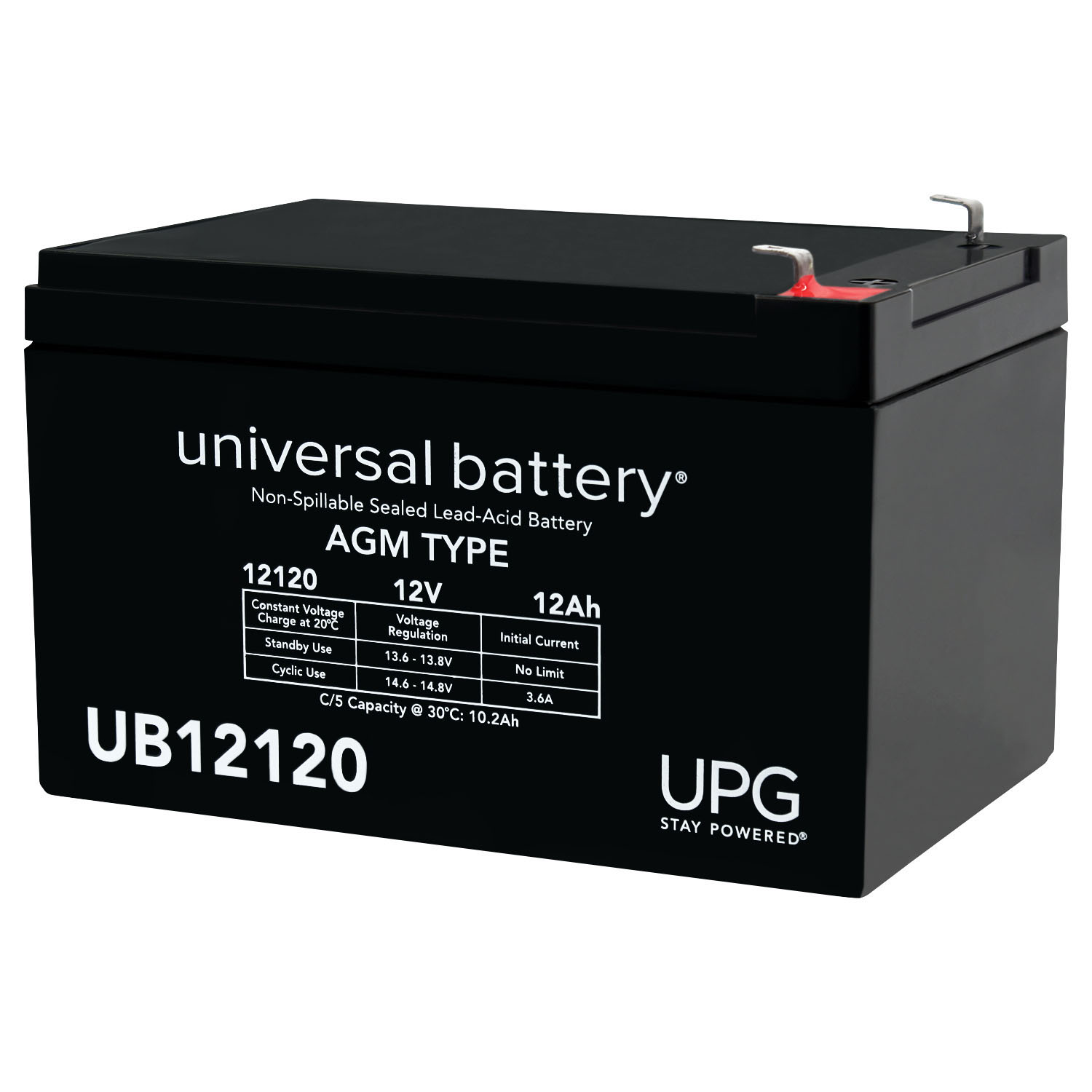 Item description:
D5775 UB12120 12V 12AH - Absorbant Glass Mat (AGM) technology for superior performance. Valve regulated, spill proof construction allows safe operation in any position.
Common uses for the UB12120: Consumer Electronics, Electric Vehicles, Engine Starters, Golf Carts, Hunting, Lawn and Garden Tools, Medical Mobility, Motorcycles, Photography, Power sports, Portable Tools, Solar, Toys and Hobby, Access Control Devices, Emergency Lighting, Security.
This UB12120 is a sealed lead-acid (SLA) absorbed glass mat (AGM) rechargeable battery. AGM and GEL batteries are lead-acid and of the same battery chemistry. This battery comes already charged, sealed, maintenance free, and ready to install. Premium quality absorbed glass mat technology (AGM) is ideal for ATVs, motorcycles, personal watercraft, snowmobiles, UPS systems, alarm systems, exit lighting systems, wheelchairs and more.
COMPATIBLE WITH THE FOLLOWING AND MORE:
Mobility Scooters

Electric Scooters

·

ActiveCare

Spitfire 1310 (Requires 2 Batteries)
·

BladeZ

XTR

Comp 450 (Requires 2 Batteries)
·

ActiveCare

Spitfire EX 1420 (Requires 2 Batteries)
·

BladeZ

XTR

Street 2 (Requires 2 Batteries)
·

ActiveCare

Spitfire1410

(Requires 2 Batteries)
·

BladeZ

XTR

Street 450 (Requires 2 Batteries)
·

BladeZ

Electric Sport (Requires 2 Batteries)
·

BladeZ

XTR-HD

550 (Requires 2 Batteries)
·

BladeZ

Electric

XTR

Comp (Requires 2 Batteries)
·

BladeZ

XTR-S

450 (Requires 2 Batteries)
·

BladeZ

Electric

XTR

Comp II (Requires 2 Batteries)
·

BladeZ

XTR-S

Transport 450 (Requires 2 Batteries)
·

BladeZ

Electric

XTR

Lite

(Requires 2 Batteries)
·

BladeZ

XTR-SE

450 (Requires 2 Batteries)
·

BladeZ

Electric

XTR

S 450 (Requires 2 Batteries)
·

Boreem

Jia

601-S

24V

(Requires 2 Batteries)
·

BladeZ

Electric

XTR

Street II (Requires 2 Batteries)
·

Boreem

Jia

601-S

36V

(Requires 3 Batteries)
·

BladeZ

Electric

XTR

Transport (Requires 2 Batteries)
·

Boreem

Jia

602-D

24V

(Requires 2 Batteries)
· Bruno Rio Travel Scooter (Requires 2 Batteries)
·

Boreem

Jia

602-D

36V

(Requires 3 Batteries)
· Currie

XTR

COMP2

(Requires 2 Batteries)
·

Boreem

S350

24V

(Requires 2 Batteries)
· Currie

XTR

SE 450 (Requires 2 Batteries)
·

Boreem

S350

36V

(Requires 3 Batteries)
· Currie

XTR

Street (Requires 2 Batteries)
·

Boreem

Tankman

· Currie

XTR

Transport (Requires 2 Batteries)
· E-Scooter 24 Volt 250 Watt (Requires 2 Batteries)
· Currie

XTRS

450 (Requires 2 Batteries)
· E-Scooter 36 Volt 350 Watt (Requires 3 Batteries)
· Currie

XTRS

COMP (Requires 2 Batteries)
· Electra Scoot-N-Go (Requires 2 Batteries)
·

DDC

Shoprider

Scootie

(Requires 2 Batteries)
· Electra

Voy

(Requires 3 Batteries)
·

DDC

Shoprider

Traveler (Requires 2 Batteries)
·

eZip

eZip

750 (Requires 2 Batteries)
· Drive Medical Falcon 3 (Requires 2 Batteries)
·

eZip

eZip

900 (Requires 2 Batteries)
· Drive Medical Falcon 4 (Requires 2 Batteries)
· Freedom 644 Electric Scooter (Requires 2 Batteries)
· Drive Medical Geo_Portable (Requires 2 Batteries)
·

iZip

AL-1020 (Requires 2 Batteries)
· Drive Medical Mini Phantom (Requires 2 Batteries)
·

iZip

HG1000

(Requires 3 Batteries)
· Drive Medical Phantom (Requires 2 Batteries)
·

iZip

MTN24V450

(Requires 2 Batteries)
· Drive Medical Phoenix 3 (Requires 2 Batteries)
·

iZip

MTNAL24V450

(Requires 2 Batteries)
· Drive Medical Phoenix 4 (Requires 2 Batteries)
·

iZip

TriCruiser

(Requires 3 Batteries)
· Frank Mobility E-Fix (Requires 2 Batteries)
·

iZip

Via

Mezza

(Requires 2 Batteries)
· Golden Technologies

Buzzaround

Models (Requires 2 Batteries)
· Mongoose AL 1020 (Requires 2 Batteries)
·

Hoveround

Activa

Mini (Requires 2 Batteries)
· Mongoose

CB24V450

(Requires 2 Batteries)
·

Invacare

Zoom3

(Requires 2 Batteries)
· Mongoose

CBAL24V450

(Requires 2 Batteries)
· Pride Mobility Go Go (Requires 2 Batteries)
· Mongoose

CR24V450

(Requires 2 Batteries)
· Pride Mobility Sonic (Requires 2 Batteries)
· Mongoose

CR36V450

(Requires 3 Batteries)
· Quickie Melody (Requires 2 Batteries)
· Mongoose

CX24V200

(Requires 2 Batteries)
· Quickie

P11

(Requires 2 Batteries)
· Mongoose

CX24V450

(Requires 2 Batteries)
· Rascal

MicroBalance

170 (Requires 2 Batteries)
· Mongoose Dirt Grinder (Requires 2 Batteries)
· Rascal We Go 250 (Requires 2 Batteries)
· Mongoose

HG1000

(Requires 3 Batteries)
· Rascal We Go 255 (Requires 2 Batteries)
· Mongoose

J3

(Requires 3 Batteries)
·

Shoprider

Dasher 3 (Requires 2 Batteries)
· Mongoose

MTN24V450

(Requires 2 Batteries)
·

Shoprider

Dasher 4 (Requires 2 Batteries)
· Mongoose

MTNAL24V450

(Requires 2 Batteries)
·

Shoprider

EZ

Chopper (Requires 2 Batteries)
·

Rad2Go

Great White

E36

(Requires 3 Batteries)
·

Shoprider

Jimmie (Requires 2 Batteries)
·

Rad2Go

Leopard Shark

E5

(Requires 2 Batteries)
·

Shoprider

Scootie

(Requires 2 Batteries)
·

Rad2Go

Reflexx

(Requires 2 Batteries)
· Shoprider Scootie Jr (Requires 2 Batteries)
· Rad2Go Rocket Racer (Requires 3 Batteries)
· Shoprider Start (Requires 2 Batteries)
· Rad2Go ZZ Cruiser (Requires 2 Batteries)
· Shoprider Sunrunner S (Requires 2 Batteries)
· Rad2Go ZZ Rider (Requires 2 Batteries)
· Sunrise Medical Guardian Trek 3 (Requires 2 Batteries)
· Razor E500s (Requires 2 Batteries)
· Sunrise Medical Guardian Trek 4 (Requires 2 Batteries)
· Razor MX500 Dirt Rocket (Requires 3 Batteries)
· Theradyne EV1864 (Requires 2 Batteries)
· Razor MX650 Dirt Rocket (Requires 3 Batteries)
· Zip'r Zip'r3 Traveler (Requires 2 Batteries)
· SEA-DOO SeaScooter GTI
· Zip'r Zip'r3 Xtra Hybrid Traveler (Requires 2 Batteries)
· SEA-DOO SeaScooter VS Supercharged
· Zip'r Zip'r4 Traveler (Requires 2 Batteries)
· Sola 350 Cruiser (Requires 3 Batteries)
· Zip'r Zip'r4 Xtra Hybrid Traveler (Requires 2 Batteries)
· Sola X-11 (Requires 2 Batteries)
· SunL Big Bug (Requires 2 Batteries)
· SunL E-21 (Requires 2 Batteries)
· SunL ES-40 (Requires 3 Batteries)

UPS Batteries

· SunL SLE-380 (Requires 2 Batteries)
· RBC Battery Cartridges RBC3
· SunL SLE-500 (Requires 2 Batteries)
· RBC Battery Cartridges RBC4
· SunL SLE-750 (Requires 3 Batteries)
· APC BACK-UPS 1000 (Requires 2 Batteries)
· SunL Tiger (Requires 2 Batteries)
· APC BACK-UPS 650
· X-Treme X-11 (Requires 2 Batteries)
· APC BACK-UPS 650 Pro
· X-Treme X-150
· APC BACK-UPS 650MC
· X-Treme X-151
· APC BACK-UPS BK1000 (Requires 2 Batteries)
· X-Treme X-360 (Requires 3 Batteries)
· APC BACK-UPS BK650
· X-Treme X-50-300 (Requires 2 Batteries)
· APC BACK-UPS BK650M
· X-Treme X-560 (Requires 3 Batteries)
· APC BACK-UPS BK650MC
· X-Treme X-600 (Requires 3 Batteries)
· APC BACK-UPS BK650MUC
· X-Treme XA-750 v1 (Requires 3 Batteries)
· APC BACK-UPS BK650X06
· X-Treme XB-500 (Requires 4 Batteries)
· APC BACK-UPS ES BE750-CN
· X-Treme XB-502 (Requires 4 Batteries)
· APC BACK-UPS ES BE750BB
· X-Treme XB-508 (Requires 4 Batteries)
· APC BACK-UPS LS BP650S
· X-Treme XM-500 (Requires 3 Batteries)
· APC BACK-UPS PCNET (Requires 2 Batteries)
· X-Treme XP-700 (Requires 3 Batteries)
· APC BACK-UPS PRO BP1000 (Requires 2 Batteries)
· Xcooter Xcruiser XC266GTB (Requires 2 Batteries)
· APC BACK-UPS PRO BP650
· Xcooter Zipper XC533GTG (Requires 2 Batteries)
· APC BACK-UPS PRO BP650C
· Currie e-Ride 20
· APC BACK-UPS PRO BP650IPNP
· Currie e-Ride 26
· APC BACK-UPS PRO BP650PNP
· Currie e-Ride 16
· APC BACK-UPS PRO BP650S
· APC BACK-UPS PRO BP650SC
· APC BACK-UPS PRO BP650SUS
· APC BACK-UPS PRO BP650SX107

Alarm Batteries

· APC BACK-UPS VS SUVS1000 (Requires 2 Batteries)
· ADI 25360
· APC BACK-UPS VS SUVS650
· ADI PWPS12120
· APC RBC3
· Altronix AL1002UL2ADA
· APC RBC4
· Altronix AL1002UL2ADAJ
· APC RBC6
· Altronix AL1002ULADA
· APC SMART-UPS 1000 (Requires 2 Batteries)
· Altronix AL1002ULADAJ
· APC SMART-UPS 1000NET (Requires 2 Batteries)
· Altronix AL1012ULACM
· APC SMART-UPS 1000RM (Requires 2 Batteries)
· Altronix AL1012ULACMCB
· APC SMART-UPS RM SU1000RM (Requires 2 Batteries)
· Altronix AL1012ULACMCBJ
· APC SMART-UPS RM SU1000RMNET (Requires 2 Batteries)
· Altronix AL1012ULACMJ
· APC SMART-UPS RM SU1500RMX155 (Requires 2 Batteries)
· Altronix AL1012ULM
· APC SMART-UPS RM SU2000R3X155 (Requires 4 Batteries)
· Altronix AL1012ULX
· APC SMART-UPS SC620
· Altronix AL1012ULXPD16
· APC SMART-UPS SU1000 (Requires 2 Batteries)
· Altronix AL1012ULXPD16CB
· APC SMART-UPS SU1000 RACK (Requires 2 Batteries)
· Altronix AL1012ULXPD4
· APC SMART-UPS SU1000BX120 (Requires 2 Batteries)
· Altronix AL1012ULXPD4CB
· APC SMART-UPS SU1000NET (Requires 2 Batteries)
· Altronix AL1012ULXPD8
· APC SMART-UPS SU1000RM (Requires 2 Batteries)
· Altronix AL1012ULXPD8CB
· APC SMART-UPS SU1000RMNET (Requires 2 Batteries)
· Altronix AL1024ULACM
· APC SMART-UPS SU1000X127 (Requires 2 Batteries)
· Altronix AL1024ULACMCB
· APC SMART-UPS SU1000X93 (Requires 2 Batteries)
· Altronix AL1024ULACMCBJ
· APC SMART-UPS SU520NET
· Altronix AL1024ULACMJ
· APC SMART-UPS SU620NET
· Altronix AL1024ULM
· APC SMART-UPS SU650
· Altronix AL1024ULX
· APC SMART-UPS SU650VS
· Altronix AL1024ULXPD16
· APC SMART-UPS SU700X167 (Requires 2 Batteries)
· Altronix AL1024ULXPD16CB
· APC SMART-UPS SUA1000 (Requires 2 Batteries)
· Altronix AL1024ULXPD4
· APC SMART-UPS SUA1000US (Requires 2 Batteries)
· Altronix AL1024ULXPD4CB
· APC SMART-UPS SUVS1000 (Requires 2 Batteries)
· Altronix AL1024ULXPD8
· APC SMART-UPS SUVS650
· Altronix AL1024ULXPD8CB
· Belkin BERBC55 (Requires 2 Batteries)
· Altronix AL1024ULXR
· Belkin F6C1000-EUR (Requires 2 Batteries)
· Altronix AL1042UL2ADA
· Belkin F6C320 (Requires 4 Batteries)
· Altronix AL1042ULADA
· Belkin Omnigaurd 3200 (Requires 4 Batteries)
· Altronix AL175ULX2
· Belkin Pro F6C100 (Requires 2 Batteries)
· Altronix AL300ULXD
· Belkin Pro NETUPS F6C100 (Requires 2 Batteries)
· Altronix AL300ULXPD16
· Belkin Regulator Pro Net 1000 (Requires 2 Batteries)
· Altronix AL300ULXPD16CB
· Compaq T700
· Altronix AL400UL3X
· Conext 900AVR
· Altronix AL400ULACM
· Cyber Power CS24U12V-12
· Altronix AL400ULACMCB
· Data Shield 400
· Altronix AL400ULACMCBJ
· Data Shield AT5000 (Requires 2 Batteries)
· Altronix AL400ULACMJ
· Data Shield TURBO 2-450
· Altronix AL400ULADA
· Deltec PRB500
· Altronix AL400ULXPD16
· Deltec PRM700
· Altronix AL400ULXPD16CB
· Elgar SPS1000 (Requires 4 Batteries)
· Altronix AL600UL3X
· Emerson 800 (Requires 2 Batteries)
· Altronix AL600ULACM
· Emerson AU-750-60 (Requires 3 Batteries)
· Altronix AL600ULACMCB
·

MGE

ESV22

(Requires 4 Batteries)