The Alessandria Series Luxury Chess Set - 4.4" King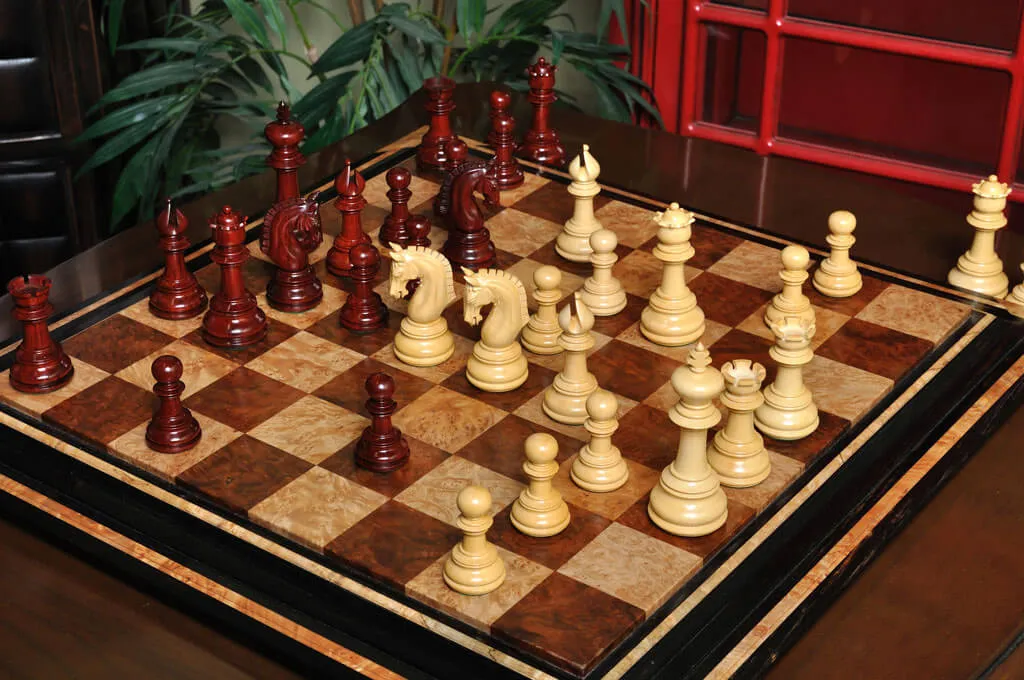 Specifications
Materials Used:
Blood Rosewood, Natural Boxwood
King Height:
4.4''
King Base Diameter:
1.85''
Total Set Weight:
70 ounces
Recommended Board Size:
2.5'' (6.4cm)
Total Number of Pieces:
34 (includes 2 additional Queens)
The House of Staunton is proud to offer the Alessandria Series Chess set. A full club-sized Chess set, it features a 4.4" King with a 1.85" diameter base. The Chess pieces are hand carved by our master artisans and crafted out of the highest grade woods. The Chess pieces are heavily weighted with luxurious billiard cloth base pads and a beautiful finish.
As with all of our Chess sets, the Alessandria Series exemplifies a perfect combination of distinct beauty and functionality. It has been designed to withstand the rigors of practical play while maintaining an elegance which has become the hallmark of a House of Staunton chess set. The design, quality and craftsmanship of this set is UNMATCHED by any set of Chessmen in its price range. Nothing even comes close!
The Chessmen are new and each set consists of 34 Chessmen, including four Queens, a standard that was introduced by The House of Staunton over 10 years ago.
The Chess Set comes with a personalized Certificate of Authenticity and an original manufacturer's plaque indicating the production number, with an adhesive backing that would allow it to be affixed to the underside of a Chess box.
This auction is for the chess pieces only. The chessboard shown is for photographic purposes only. The chessboard must be purchased separately.
This listing is for Chess Pieces only. The chess board featured in the photographs is for illustrative purposes only, and must be purchased separately.