SOIREE BOTTLE TOP WINE DECANTER & AERATOR, infuser 2012

The Soiree is a innovative wine accessory that fits into any standard corked wine bottle letting you pour, without dripping, directly through the Soiree. When you place the Soiree in the wine bottle, the Soiree aerates your wine as you pour it. The Soiree allows you to decant just the portion of wine you want a wine glass or a carafe. The Soiree wine decanter can also be used to pour the wine into a stand alone decanter, further dispatching the "breathing" of your wine. The Soiree has dimples in the glass increasing the surface area of the glass which not only agitate the wine, but infuse more oxygen into the wine.
Soiree adjusts securely into any wine bottle permitting you to pour, without dripping directly through the Soiree. By pouring wine with a Soiree, the Soiree creates an intermediary stage where the wine is infused with oxygen and then cascades into your glass. In using the Soiree to aerate your wine, you will notice the subtle nuances and character of the wine arise immediately upon dispensing into your glass. Soiree delivers a truly "breathable" wine just by pouring through it.
This wonderful invention will fit any standard size bottle effortlessly! This is a must have for the avid wine enthusiast and costs half the price of French brands! Whether your aerating a new vintage Chardonnay or an older Merlot, this decanter will adapt to your needs with accurate precision! This item will soon become a staple in your kitchen or bar. Product is 100% brand new and is packaged in a Gift box/Storage stand and includes instructions. Our Ebay "Buy it Now" price is: $19.99 with FREE shipping for 1 Soiree Wine Decanter. For Product information call #847-213-0335 11a.m.-7p.m.! Thank you for shopping with Millennium_Sports! Good luck Bidding! SEARCH OUR EBAY STORE FOR BUY NOW VALUES! !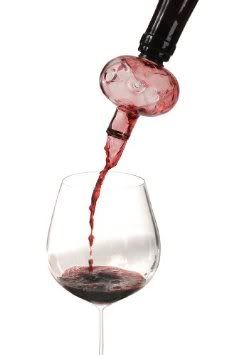 Features
Dimples increase surface area of the glass to infuse more oxygen in the wine
Bottle-top aerator and decanter designed to fit any wine bottle
Includes a stand for storage that's also great for drying after cleaning
Decant just the portion of wine desired--a single glass or a carafe.
Measures 3 by 5-1/2 by 3 inches
Item Will be shipped USPS First Class Mail for FREE Including Delivery Confirmation. Transit times are provided by the carrier, exclude weekends and holidays, and may vary with package origin and destination, particularly during peak periods.


Your satisfaction is 100% GUARANTEED when you purchase a product from Millennium Sports. Whatever your situation, we will work out a solution that is fair for both parties. In any case, you are welcome to call #847-213-0335 M-Sun. 11am to 7pm and speak to a customer service representative regarding returns.
If you are dissatisfied with your purchase and desire an exchange or return refund, please return item within 10 days of receiving the package.
Find IT! Enjoy browsing a vast variety of items in our Ebay Store! Use the search box to locate your desired team or item effortlessly! Our Ebay store affords you the convenience of purchasing multiple items, making Best Offers and saving money on combined shipping!


We accept PAYPAL.
Payments must be made within 14 days of purchase, we reserve the right to relist the item if payment exceeds the allowed time frame.



It is our aim to provide our customers with expedited service, shipping within 24 hours of label creation. Occasionally, packages are misdirected in the system causing delivery delays. (damaged label, carrier error, wrong address etc… etc…) Please remain patient, if for some reason your item has not arrived in a reasonable time frame, something out of the ordinary may have occurred. If this is the case, please contact us so we can discover the origin of the delay and resolve the issue. You can contact us through the Ebay Question for seller console or by calling us at: #847-213-0335.