Your Passion Is Our Promise… Authentic Autographs, Fine Art & Antiquities
Robert Taylor
Unsigned Photograph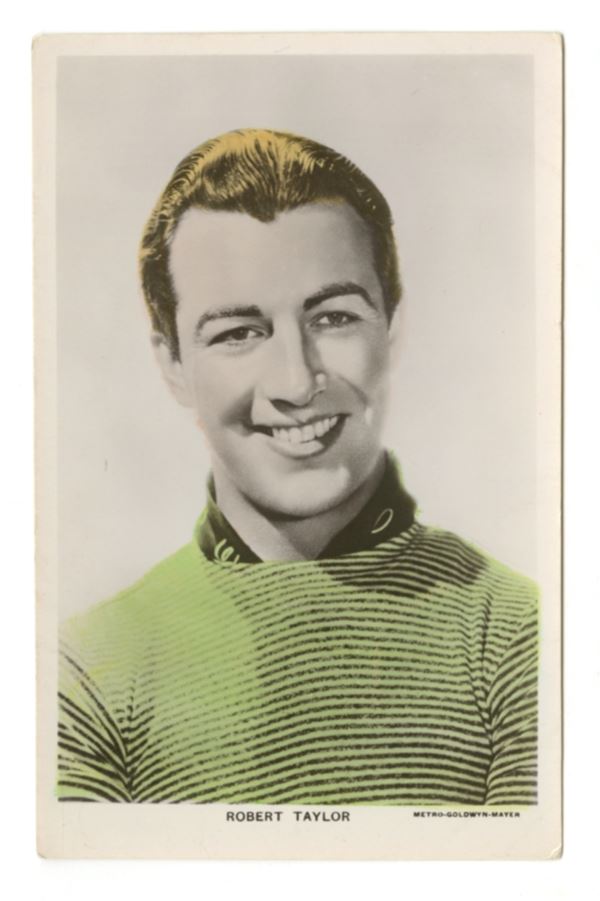 (JG Autographs watermark does not appear on the actual item, only our online scan)
About this Item:
Robert Taylor (August 5, 1911 – June 8, 1969) was an American film and television actor who was one of the most popular leading men of his time. Original vintage real photo postcard (RPPC). Printed in Great Britian.
Taylor began his career in films in 1934 when he signed with Metro-Goldwyn-Mayer. He won his first leading role the following year in Magnificent Obsession. His popularity increased during the late 1930s and 1940s with appearances in A Yank at Oxford (1938), Waterloo Bridge (1940), and Bataan (1943). During World War II, he served in the United States Naval Air Corps, where he worked as a flight instructor and appeared in instructional films. From 1959 to 1962, he starred in the ABC series The Detectives Starring Robert Taylor. In 1966, he took over hosting duties from his friend Ronald Reagan on the series Death Valley Days.
Beginning in 1902 Kodak offered a preprinted card back that allowed postcards to be made directly from negatives. This technology allowed photographers to travel from town to town and document life in the places they visited. Local entrepreneurs hired them to record area events and the homes of prominent citizens. These postcards documented important buildings and sites, as well as parades, fires, and floods. Real Photo postcards (RPPCs) became expressions of pride in home and community.
While Kodak was certainly the major promoter of photo postcard production, they didn't seem to originate the term "Real Photo," and used it less frequently than photographers and others in the marketplace from 1903 to ca. 1930. But it has become the popular term today to distinguish photographic postcards from commercially printed, mass-produced postcards of the same era. Real Photo postcards have made for millions of 'one-off' photographs, where the photographer may have produced a single or a small number of prints from one negative.
This vintage real photo postcard, measuring 3.5 x 5.5 inches is in fine condition showing light signs of age and toning. Verso bears original RPPC graphics and hand stamps. Front features hand tinted coloring.
More About Us And Our Committment To You:
JG Autographs, Inc. has been a leader in the autograph field since the mid 1990s. From the beginning, the idea was simple: sell top-quality, 100% authentic autographs and fine collectibles.
Today, nearly twenty years after the founding of JG Autographs, we continue our commitment to provide you with the finest authentic Autographs, Art & Antiquities. JG Autographs, Inc. is a leader in providing authentic autographed items and memorabilia to private collectors, dealers and galleries all over the world. Our impeccable reputation stands behind our products and company.
Our Guarantee
At JG Autographs, Inc. every autograph comes with our lifetime Letter of Authenticity (LOA / COA) stating our guarantee that, for the lifetime of the item, we stand behind the authenticity of the item. Our Letter of Authenticity takes that guarantee one step further by containing an image(s) of the exact item which the letter is accompanies. Each LOA is hand signed by our President. Collectively, these measures prevent the misuse of our LOAs and protect the integrity of our authentic autographs we sell. Autographs purchased from JG Autographs, Inc. accompanied by our LOA will maintain the respect they deserve in regard to any and all future concerns on authenticity.
The Uniqueness of Our Products
JG Autographs, Inc. prides itself on selling 100% authentic autographs and memorabilia. We carry a broad range of products in hundreds of varying categories of collecting. Our category diversity includes film and television, military, models, music, notables, politics, science, space and aviation, sports and the arts. Whether you are a history buff, fan of modern film, television, art or music or enjoy collecting material from your favorite home town team or sports legends, we carry it all. Our collectibles make for fantastic additions to long standing collections, great starting points for new collectors looking for trusted authentic material, and make for a truly unique gifts for that special person in your life or corporate gift for a special client.
Useful Information
All autographs sold are hand signed. We do not sell reproductions of autographs.
All autographed items, as well as our fine vintage collectibles, come with a Full Letter of Authenticity
All prices are firm. We do not discount prices on a per request, per customer basis.
We offer a 100% satisfaction guarantee. Any time can be returned for any reason within 14 days of receipt.
We are registered dealer #147 in good standing with the UACC