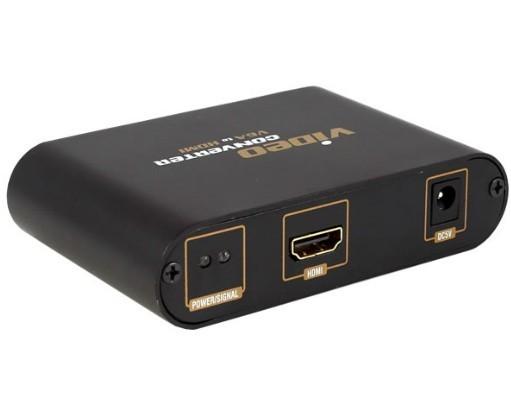 PC DVD VGA Video Audio to HDTV HDMI Converter Adapter



Super Fast shipping
Overview:
Condition: Brand New
Warranty: 1 Year Warranty

In Stock and Ships within 24 hours
Product Description
Payment
Shipping
Returns
This kind of the Converter is a VGA video converter. It converts VGA input into HDMI to allow PC users to show their image not only on the PC monitor, but could also on TV, to have a large display. The conversion is along with the audio.
PETVH offers solutions for digital entertainment center, HDTV retail and show site, HDTV, STB, DVD and Projector factory, noise space and security concerns, data center control, information distribution, conference room presentation, school and corporate training environments.

Features:
VGA to HDMI Converter box converts PC VGA and audio to HDMI, allowing connection of PC to 1080p HDTV.
VGA + Stereo Audio to HDMI converter:
-Input: 1 X VGA, 1 X Stereo Audio L/R;
-Output: 1 X HDMI,
-HDMI 1.3 and HDCP compliant;
-PC VGA Resolution: 1920 X 1080@60Hz, 1360 X 768@60Hz, 1280 X1024 @60Hz, 1024 X 768 @60Hz, 1280 X 720 @60Hz, 1280 X 768 @60Hz, 800 X 600 @60Hz, 640 X 480 @60Hz, 720 X 400 @85Hz.
Package Content:
· Main unit
· Power Supply