Features & Content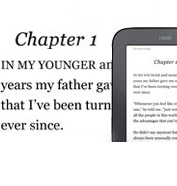 NEW! World's Best Reading Screen
Breakthrough E Ink® display for the best just-like-paper reading—even in bright sun—with our proprietary Best-Text Technology™ that produces super-sharp fonts. Hands down, it's the best Reader.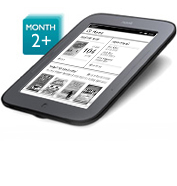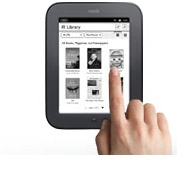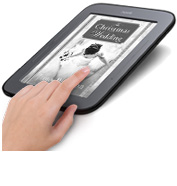 Fastest Reader
25% faster than any other Reader. Quick page turns, fast browsing, get to your latest read with just a tap. Download new books instantly via Wi-Fi® -usually in under 10 seconds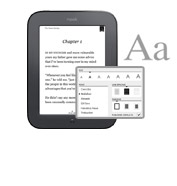 Read Your Way
Make the text bigger or choose the font you like. Enjoy your favorite reading in your favorite way.
World's Largest Bookstore
Over 2.5 million titles – new releases, bestsellers – sample for FREE. Most $9.99 or less. NOOK Daily Find™ offers a great book at a great price, plus Free Fridays™ titles. Try popular magazines & newspapers FREE.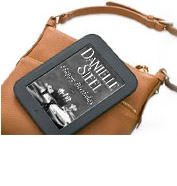 Ultra-Light, Ultra-Portable
NOOK is lighter than a paperback (under 7.5 ounces) and super thin, yet holds up to 1,000 books, magazines, and newspapers--so it's easy to take your entire library with you anywhere.2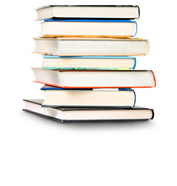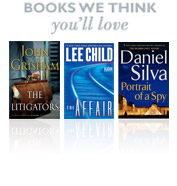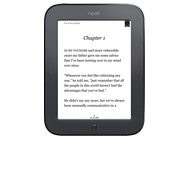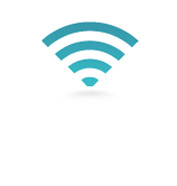 Free Wi-Fi®
NOOK connects via thousands of Wi-Fi® networks, including FREE access at all Barnes & Noble stores and more than 24,000 AT&T® hotspots, like cafes, hotels, and restaurants nationwide.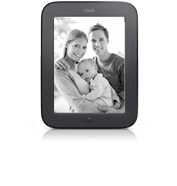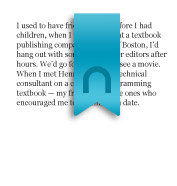 NOOK Keeps Your Place
Our FREE NOOK Reading App™ syncs the last page you've read across your NOOK, smartphone or computer – so you can read what you love, anywhere you like.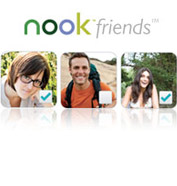 Share with NOOK Friends™
Connect with friends and share recommendations about the books you love on Facebook and Twitter, or swap books with LendMe®. Check out your friends' ratings and reviews, and let them inspire you.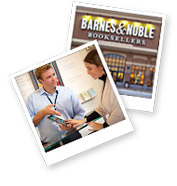 Always Free NOOK Support
Get FREE NOOK support from our 40,000 booksellers. Plus enjoy FREE Wi-Fi®, special offers on books and café treats, and read entire NOOK Books FREE for up to one hour per day.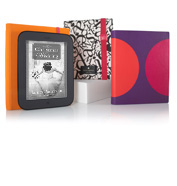 Get the NOOK Look
Our wide selection of accessories is exclusively designed for fashion, fit and function. Keep your NOOK safe and stylish with designer cases and totes, plus must-haves like screen protectors, car adapters & more.